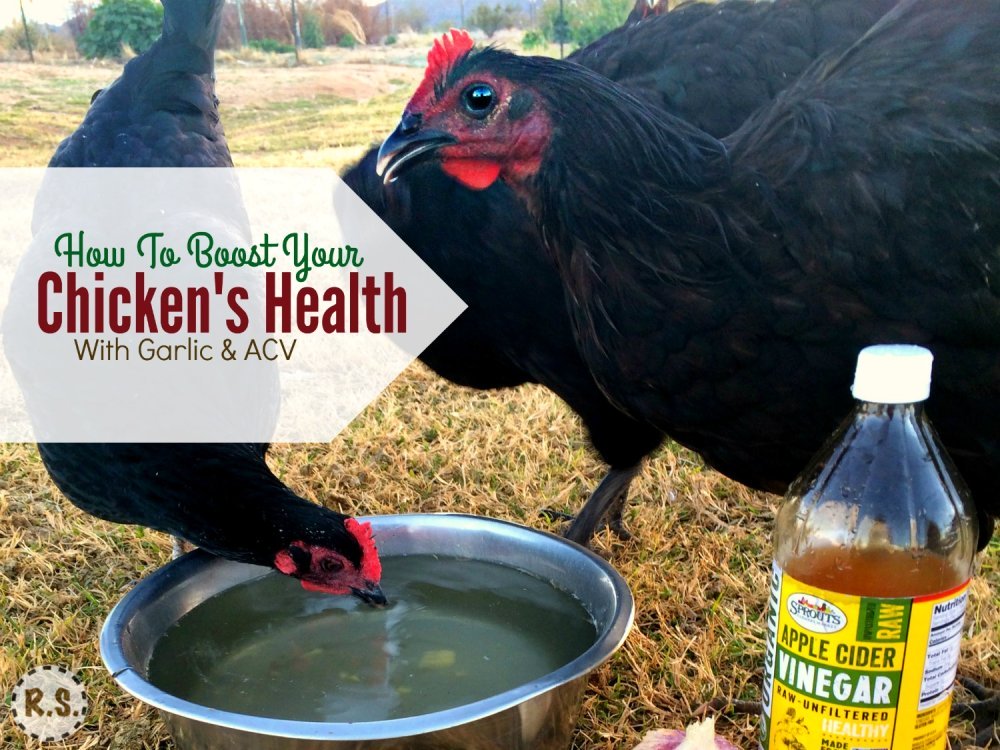 How do you improve your backyard chickens health? 
Feed them garlic and apple cider vinegar!
There are so many benefits to using apple cider vinegar (ACV) and garlic in their water. Let me explain the advantages of feeding garlic and apple cider vinegar, and then I'll show you how to start feeding it to your hens. It's super easy.
If there was one thing you could do for you chickens health feed them...
GARLIC & APPLE CIDER VINEGAR!

Disclosure: Some of the links on this page may be affiliate links, meaning I may get a small commission if you make a purchase. There's no additional cost to you. Read the full disclosure here.
Amazing Health Benefits For Chickens
There are so many! 
By adding garlic and apple cider vinegar to their water you're going to prevent tons of sicknesses, worms, infections, and more in your chickens. And garlic is an egg laying stimulant, meaning garlic will encourage your hens to lay more eggs!

Here's a list of the amazing things garlic and apple cider vinegar can do, or prevent in your flock...
Garlic Is An:

Antibacterial
Antiviral 
Infection preventer
Worm preventative, and a treatment 
And an egg laying stimulant
Apple Cider Vinegar Is:
An amazing source of probiotics 
A Great energy booster
Helpful to their digestion
An immune system booster
It increases the calcium & other mineral absorption (Meaning they digest minerals better, getting more out of them)
And it helps with respiratory problems
So what are you waiting for! This will help your chickens health. And they LOVE it. :-) It may take them a little getting used to. But then garlic and apple cider vinegar are a fun treat for them! 

Healing Qualities For Your Chickens
Because of their all-around healing qualities, I like to add garlic and apple cider vinegar to my hens water whenever they seem sick or one dies and I don't know why. It's a great sickness precaution.

If you have a sick bird the first thing I would do is give them garlic and apple cider vinegar. It won't hurt anything. And if it doesn't solve the problem directly, it may still help. It's great over-all for their immune system. 
The bottom line: As soon as you detect a sick chicken add garlic and ACV to their water.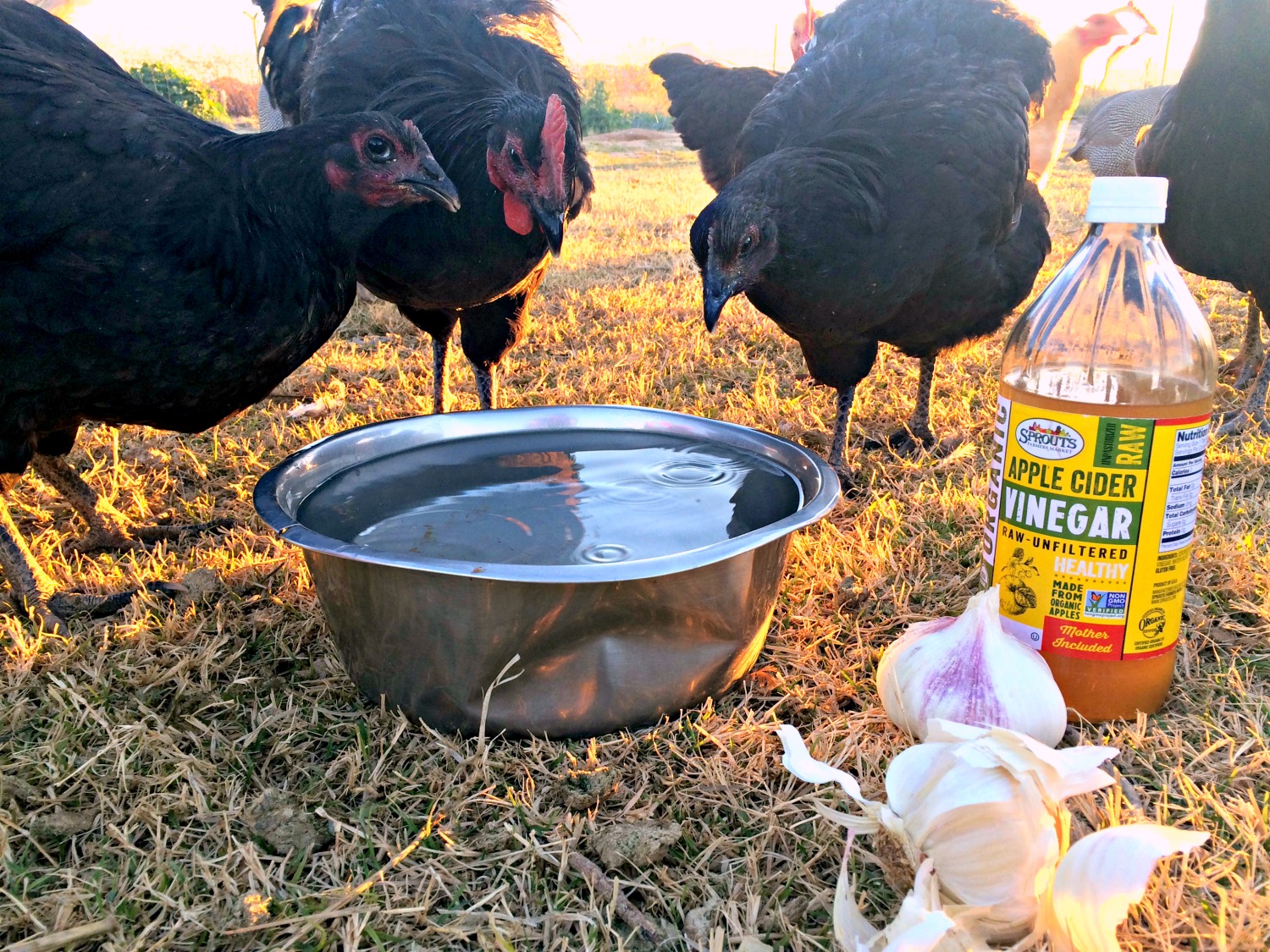 Now How Do You Feed It To Them?
You're sold! But where do you go from here?
Put it in their water!

Add some crushed, fresh garlic and apple cider vinegar to their clean water. It may take them a bit of getting used to at first, then they'll love it!

How Much Do I Give Them?
It's flexible. But while you're first introducing it, I would recommend starting out with less. Over a week or two I'd work it up to the higher dose.

Maybe for the first few days start with 1 clove of crushed garlic and 2 tablespoons of apple cider vinegar. Work up to 3 cloves of crushed garlic and about 1/4 cup of apple cider vinegar for a 10 liter water dish. But I don't measure it every day. ;-)
What Brand Of Apple Cider Vinegar Do I Use?
It doesn't matter as long as it's RAW, UNFILTERED, and WITH THE MOTHER. 
Bragg's Apple Cider Vinegar is always a great brand. It's the one we get most often. Any other local brand you can find is great too. As long as it meets the above requirements.

FYI, It's hard to get good pictures of chickens. They can't seem to stay still! This one turned out great though. ;-)
How Often Do I Feed Them Garlic & Apple Cider Vinegar?
Every day! But yeah, life happens. You don't need to feed it every day to still get great results. Once a week would be great. I'm still trying to get better with this. ;-)
But if you have a sick chicken don't wait. Feed all your chickens garlic and apple cider vinegar right away. And keep feeding it for a while after they're doing better. When in doubt, feed it to them.
But You Use A Different Kind Of Waterer
But I don't use a simple watering dish? Fine. You can still give them garlic and apple cider vinegar. 
If crushed garlic is going to clog you automatic watering system or if apple cider vinegar is going to make a closed 5-gallon bucket with chicken nipples moldy there are still other options. 
Feed it plain in a separate small dish or...
Mix it in their chicken feed
My Chickens LOVE garlic!
A few years ago, I was planting garlic I'd bought from Baker Creek. I was busy working when I realized one of my hens had stolen a clove of my garlic! Now it wasn't just any garlic. I bought heirloom garlic that cost quite a bit (well for garlic anyway). Not wanting to let my hen steal my expensive garlic, I got up and chased her around the yard in until I got it back. I think i trained my Crazy hens to love garlic. ;-)
Feeding Garlic & Apple Cider Vinegar To Baby Chicks
Feed garlic and ACV to your new chicks! It's great for them and can help them with the stress of shipping or just give them an extra energy boost. And for new chicks I also recommend adding some honey. Get the recipe here!

Improve Your Backyard Chicken Health!
Your now ready to start improving you chickens health! 
You've learned the amazing benefits garlic and apple cider vinegar can have on your flock. And you've learned how easy it is to start feeding it to you flock today.

So go outside and feed them some garlic and apple cider vinegar to improve their health today.