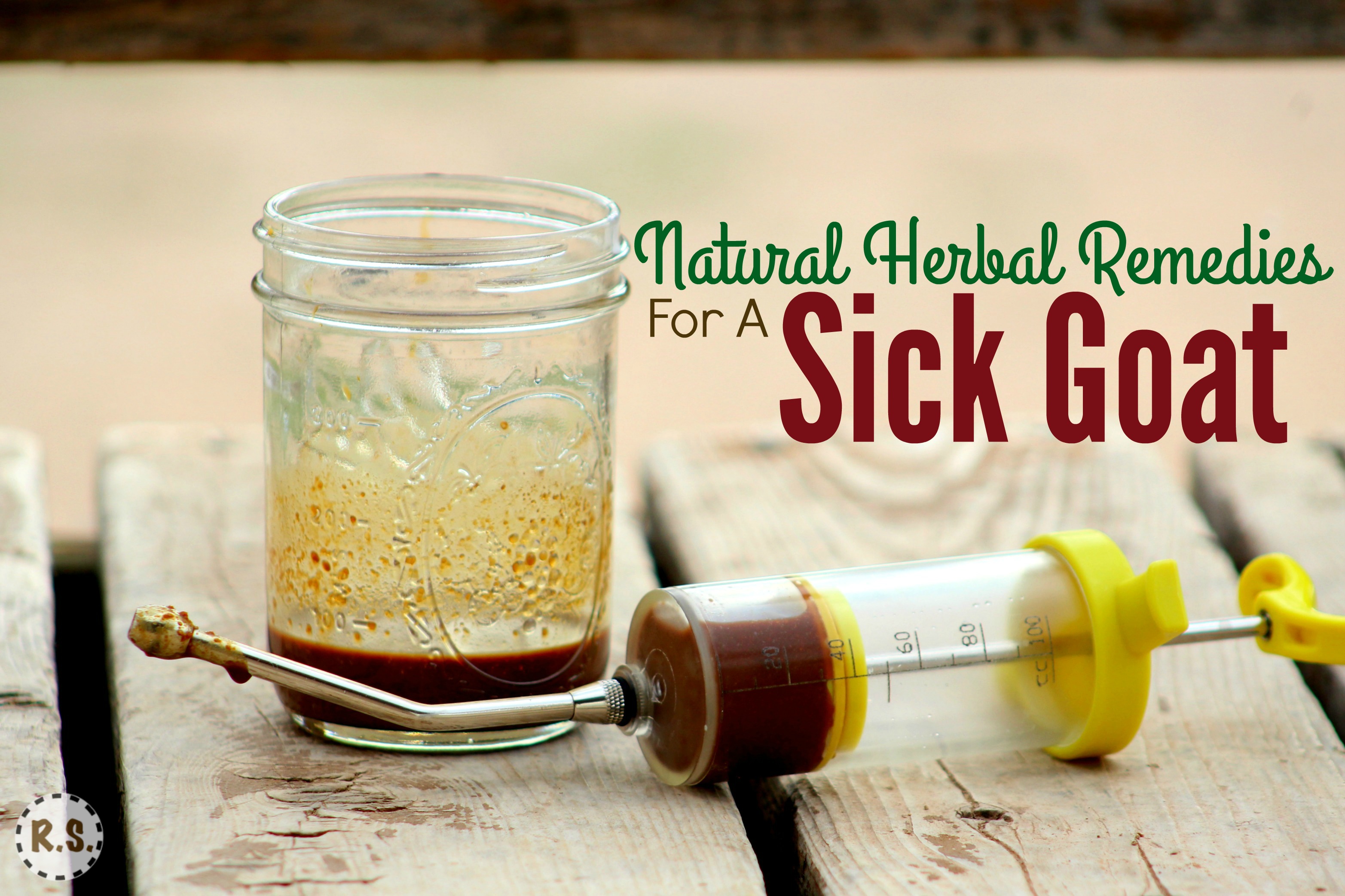 Natural remedies for a sick goat or any sick farm animal are hard to come by. It's sad when your backyard goat, cow, sheep, dog, cat or chickens get sick. When that happens it's so difficult to find a good homemade recipe specifically for them. 
So what do you do when you have a sick goat? 

Disclosure: Some of the links on this page may be affiliate links, meaning I may get a small commission if you make a purchase. Read the full disclosure here.
I'M NOT A VET!!

This site is for educational purposes only. I am not a doctor or veterinarian. ReformStead .com does not provide medical advice. The information provided on this site is for entertainment purposes only. Read the full disclaimer here.

It's Hard To Find Natural Remedies For A Sick Goat
I haven't found much information on how to make natural remedies for a sick goat. It's like trying to find a needle in a haystack! My goats had mastitis twice and I tried so hard to find remedies for it and I couldn't! I found preventative salves and essential oils for preventing mastitis, but my goats already had it. I know preventing is way better than fixing a problem, but that didn't help. I needed a remedy to fix it.
I came up with my own mastitis remedy. It worked! I created a concoction and fed it to my goat, and I also made a salve I applied to her udder. I'm so glad it worked! But while we were in the middle of it I was kinda worried, because I didn't know of anyone else who had treated their goats like this. 

We Had Sick Goats
Last week I noticed two of my goats had diarrhea. It's a serious matter when an animal gets diarrhea. 

Diarrhea can be caused by many things. If you don't treat it quickly it can be deadly. I looked it up in our Storey's Guide to Raising Dairy Goats book. I love that book! But the suggestions were vague. It recommended to feed the goat some yogurt (the probiotics are healthy and good for their rumens). But if a goat has diarrhea, it is usually for another reason... I guess they expect you to call the vet.
Instead I decided to fight it myself with this natural remedy I came up with. 
I fed them this homemade remedy (recipe below). One of the goat's diarrhea was not to bad and it cleared up overnight. The other one took a several days, and he's better now too!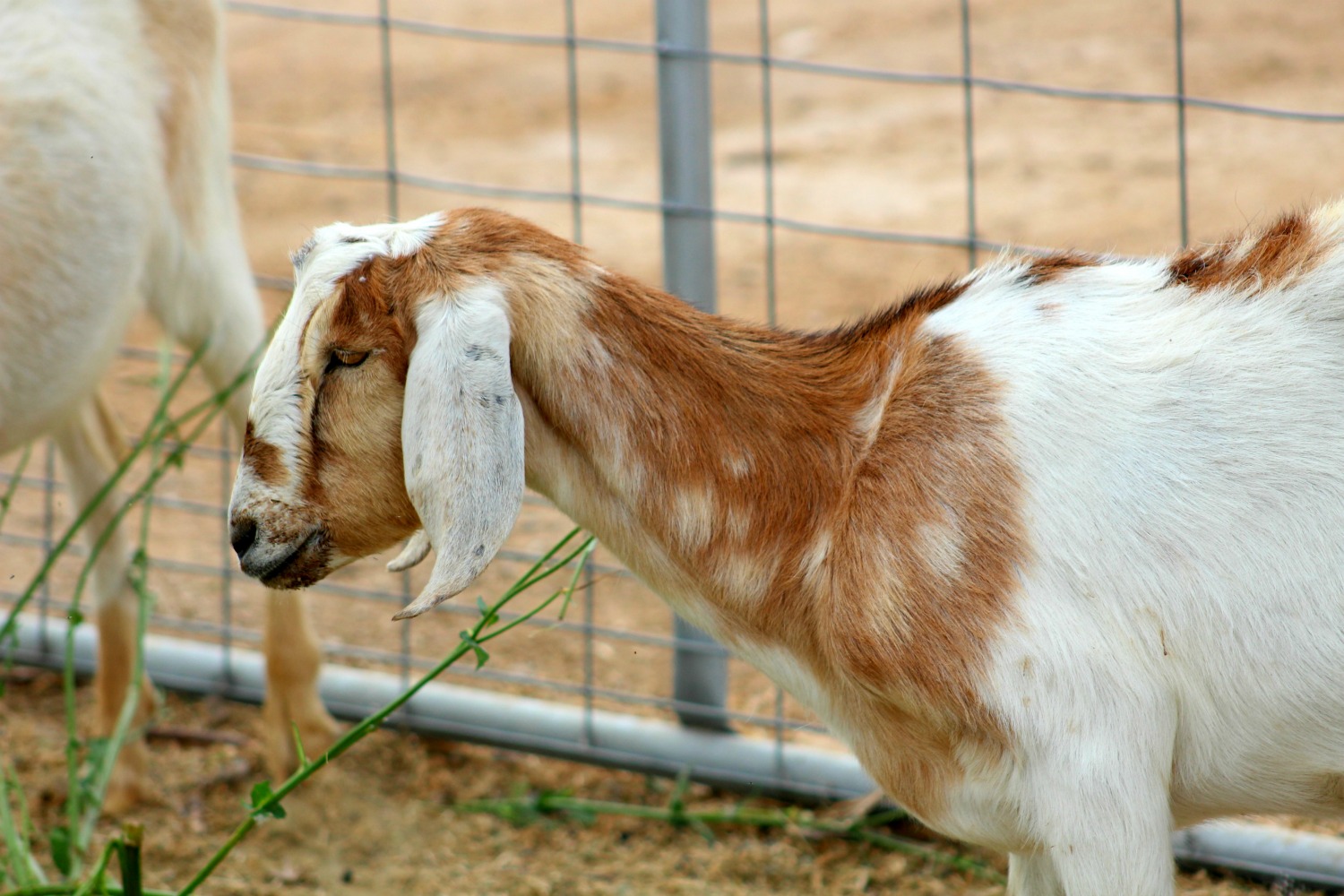 Sad eyes, a droopy face and ears are all signs of a sick goat.
Learn To Make The Right Decision
When you have a sick animal, you have a decision to make:
Do you do what most do and call the vet? 
Or do you try to treat them yourself?
This is a decision you'll need to make. I can't make it for you.
Generally I'm going to try to treat them myself. I might not always make that choice. It depends on the circumstances. Here are a few things to consider:
How valuable is the sick animal? All my animals are extremely valuable to me. And I want to be a good steward of every single one of them. But there's a difference between a proven milk goat and one of their bucks that we're planning to eat. I care about both. But one is going to give us milk for years. This doesn't mean I would never call the vet for a buck. It's something to consider. 
How sick is he? This too is important. Is your goat up, walking around and eating? He may have a problem, but how bad is it? 
How hard is it to get the vet to your homestead? This is another thing to think about. If you know you may not be able to get a vet to come out, you want to have an alternative method available. Doing something is better than nothing.
Why I Chose These Ingredients?
Lets look at the ingredients in the recipe. Every ingredient in the recipe serves a purpose. They're all good for a sick goat.

Garlic
Garlic is good for so many things. Whenever you're dealing with sickness in people or animals it's a good one to use. Among other things it's antiviral and antibacterial, which helps with infections. It is a powerful all-around healing herb. Exactly what we need.
Apple Cider Vinegar

Raw and unfiltered apple cider vinegar, is good for many things. ACV has an amazing source of probiotics, helps the digestion and boosts the immune system. It's amazing for overall health.
Molasses

When we bought our cow, I learned about how good molasses is for their rumen and digestion. I figured since my goat is a ruminant too it would be good for his rumen and digestion. I used this High Energy Blend instead of plain molasses. It contains a lot of molasses and a few other things good for their overall health. If you don't have that I would just use molasses. 
Milk Kefir

I used milk kefir because Storey's Guide to Raising Dairy Goats said to use yogurt. We don't usually have yogurt and kefir is a great substitute. Kefir also has more probiotics than yogurt. (Although kefir has more probiotics than yogurt they contain different strains of probiotics. Just something to keep in mind.) The probiotics in the kefir are really good for the goat's rumen, digestion, and over-all health. And yes, I feed my goats goats milk kefir. 
The Recipe...
I used this recipe for a goat who had diarrhea. He wasn't eating much, but he was still walking around. He was more sad looking than normal too. I don't know what caused it. But I picked a few things that are good for just about anything and mixed them up. Here's the basic idea.

Natural Sick Goat Recipe
1/4 cup Molasses (or high energy blend)
1/4 cup Milk kefir, I wanted to add the kefir grains too, but they were too big for the syringe. They kept getting stuck, so I omitted them.
2-4 Tablespoons raw, unfiltered Apple cider vinegar
1 clove of garlic, crushed as small as possible so you can get it through the syringe.
Mix it all up in a wide-mouth pint sized canning jar or a mug. 
After it's all mixed, suck it up a feeding syringe. And feed it to your sick goat. 
I like the syringe we bought for our cow. It works great for our goats too. I tried to find it for you so I could link to it, but the place we bought it from doesn't seem to have it right now. If you want to get one here's the place we got ours: SHARPVET Feeding Syringe. (Our feeding syringe is 100cc's. You don't need it quite that big if it's just for your goats.)
If you're in a pinch, I've used these before...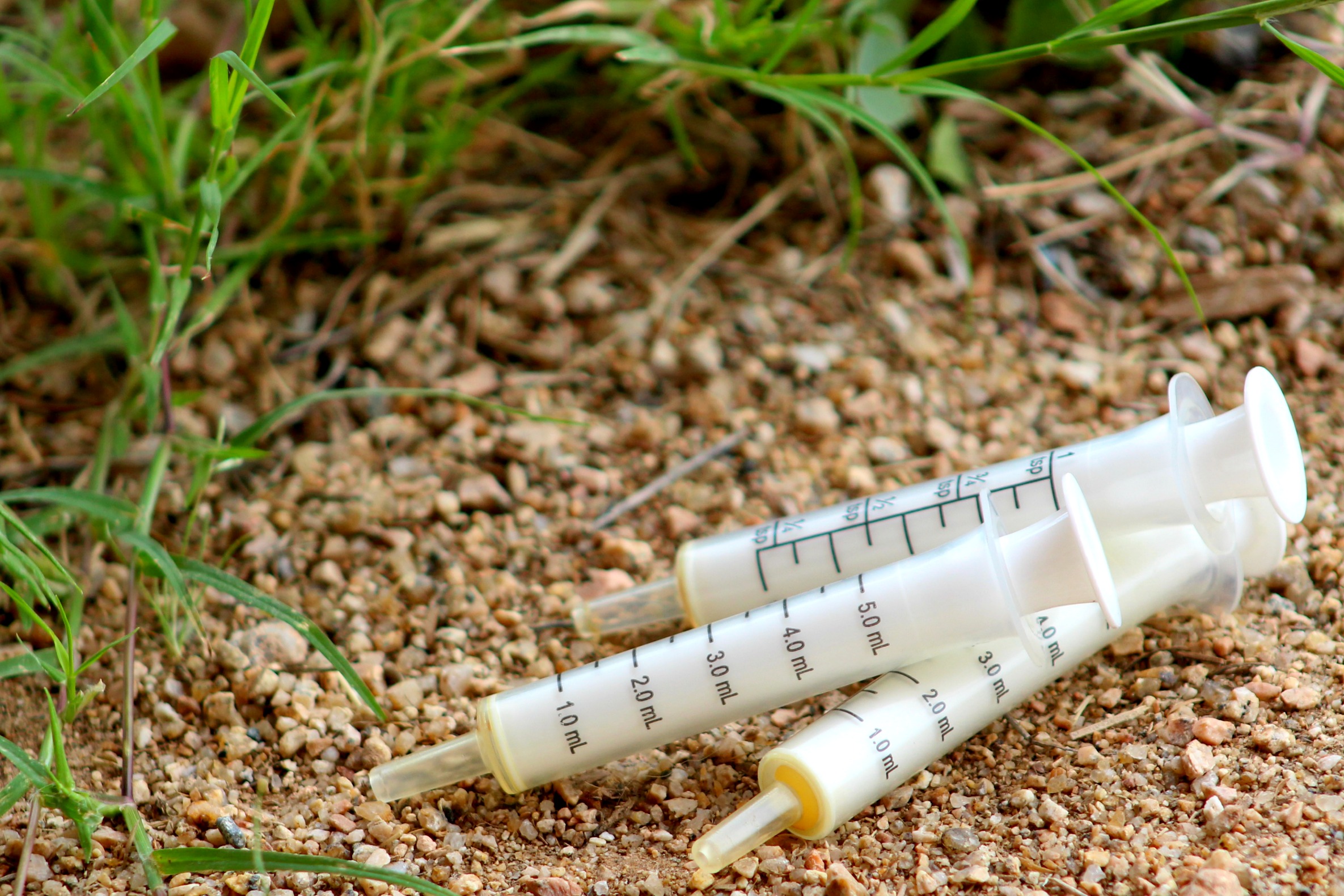 Cod liver oil syringes made for people, can be used for your goats in a pinch.
It's a little rough because you have to keep squirting it in their mouth, over and over and over again! And they don't like you sticking things in their mouths. But it's possible. I had to use these to feed my milk goat when she got mastitis. I didn't have anything else. But I recommend getting the feeding syringe. It's much easier and faster.
(If you use these for your goats, set them aside and don't use them for people again. It would be hard to get them clean enough to stick back in your mouth.)
Feeding It To Your Sick Goat
The hard part is feeding this to them. They don't like you sticking the syringe in their mouth. 
You can either lock them in your milking stand  or straddle them with their head in between your legs. Lift up their head and put the syringe into their mouth. Once it's in there, squirt the contents into their mouth. Don't go too fast or you might choke him. Practice is most helpful with this one. 
How Much & Often To Feed
For one dose, I gave my goat about 30-40 cc's. That's about 3-5 Tablespoons,  or 40-80 millimeters. 
Feed it to your goat three times a day. When he starts doing better taper it off.
Build Your Homestead Skills
I hope this helps your goats health and/or your learning process. It's hard to find do-it-yourself natural remedies for animals online. Finding good information is like trying to find a needle in a hay stack! Keep learning and maybe someday there will be more out there for all of us!
May this help and encourage you in your goat raising skills.