A natural eye infection remedy for your cow, rabbit, goat or sheep. It's a simple, easy and a very effective homestead remedy that I tried on our animals a while back. I've had great results! Plus, it's just one simple kitchen ingredient. 

I have used it on a cow and a few baby meat rabbits. Following are the stories of how well our natural eye infection remedy worked, and then you'll find how to apply it. I have not tried it on goats or sheep yet, but I'm convinced it would work just fine (more about that below).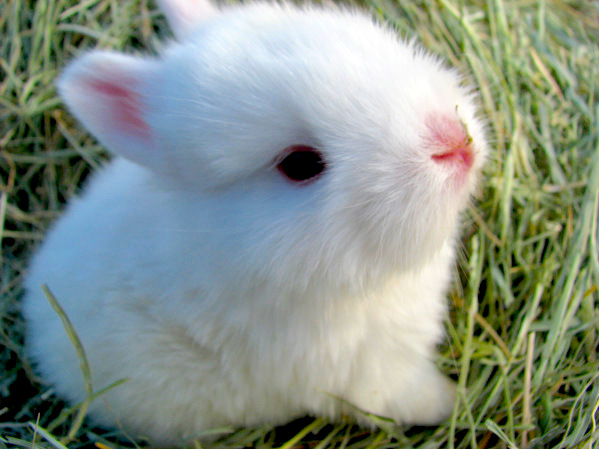 Crystal clear eyes are just what we want to see.
Disclosure: Some of the links on this page may be affiliate links, meaning I may get a small commission if you make a purchase. Read the full disclosure here.
I'M NOT A VET!!

This site is for educational purposes only. I am not a doctor or veterinarian. ReformStead .com does not provide medical advice. The information provided on this site is for entertainment purposes only. Read the full disclaimer here.

The Remedy on an Old Roping Calf (AKA our Cheap Meat Cow)
Picture of our meat cow (From my old blog)
Several years ago we bought an old roping calf who had slightly injured one of her legs. She wasn't that bad, but bad enough to be useless for the ropers. We got her for a great price and raised her for meat (which by the way, was really tasty!). 
When we picked her up she had a swollen infection around her eye. It was puffy and a tannish color. (I wish I had a picture to show you, but sadly I don't.) The guy who helped us with her said he'd seen it in his cows before and it always went away on it's own. In other words, there was no need to worry about it.
My mom had a great idea and suggested we try putting a little coconut oil on it, and that's how we came up with this natural eye infection remedy.
The cow was pretty wild and would barely let me walk up near enough to pet her (the guy who had her last was surprised when dad told him I pet her :-) ). I was able to get the coconut oil on her eye a few times, but then I stopped cause she really didn't like me doing it and it was kinda hard to get her to keep coming to me. It wasn't worth it, and over time it healed. 
The Remedy on a 16-Day-Old Rabbit
A little while after this we were raising meat rabbits (they didn't do well with our AZ heat though, so we stopped). 
After using coconut oil on a 16-day-old rabbit the results were so great I wrote about it on my other blog (which I have dropped since I started writing here). I also mentioned this remedy in my book, "The Holistic Homestead." I really like finding natural remedies that work with animals on the homestead. (Check out all of my other natural farmstead remedies here.)
When a baby rabbit turns ten days old, their eyes are supposed to be open--if not you can have a problem. If you don't act fast the rabbit could be blind for the rest of it's life. 

On day-ten, one of my kit's (baby rabbit's) eyes was still not open. I tried to help it by wiping the eye with warm water and gently pulling the eyelids  apart. This was our first litter, so I was a little nervous and ended up waited until the eleventh day to finally get it open. Maybe I didn't get it open all the way, I'm not sure, but not too long later I found it had infected. 

This brought back sad memories of when our pet rabbit (these were meat rabbits) ended up dying (cause we didn't know what to do). This little kits eye looked the same. The infection was in and on their eye, sealing the eye closed with a bunch of yucky, crusty gook.
I applied coconut oil (instructions below). They had 100% recovery overnight! I love how easy it is to use, and how well it works. Needless to say, I was sold!
The top eye is swollen closed from the infection. After applying the coconut oil for one day his eyes are open. He's well on his way to recovery. The kit (baby rabbit) is 16 days old here.
Natural Eye Infection Remedy—Application
I wrote about this in my book, The Holistic Homestead. Below are the instructions on how to apply it (which are in my book).
"How to Apply It—Take a generous amount of virgin coconut oil and apply it liberally to the infected area. Gently rub and massage the area as you're applying it.
Repeat this procedure 2-3 times a day, until the infection is gone and the swelling and redness are down."
—from: The Holistic Homestead

Goats & Sheep
I haven't used coconut oil on a goat or sheep yet because, we don't have sheep (although we plan to get them soon!! :D) and our goats have never had an eye infection (although I've used coconut oil on our goats when they have gotten mastitis). 
But I think it's safe to assume that coconut oil would work as wonderfully on a goat or sheep's eye infection as it did on my cow and rabbits. It will no doubt be my go-to if I ever encounter an infection in any of my goats or sheep.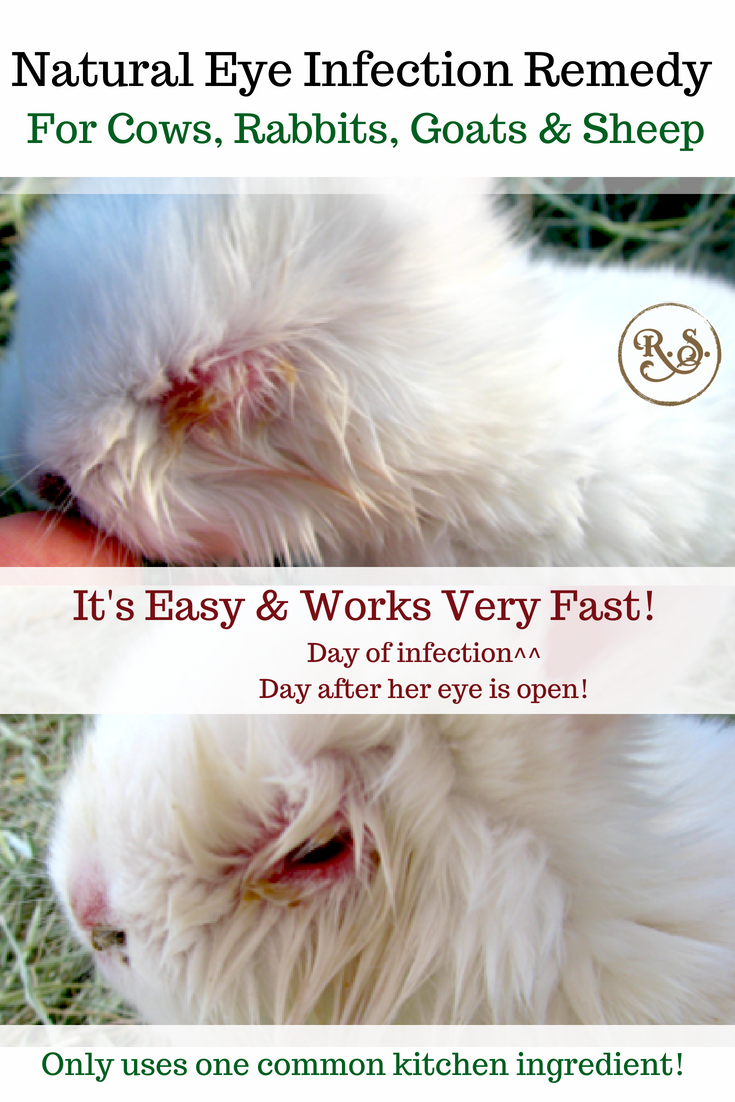 Castor Oil
Another thing you might try as a natural eye infection remedy (if you don't have any coconut oil) is castor oil. Castor oil is also good for fighting infections and I had a lady from church tell me to try it on a goat who had a badly, persistent case of mastitis. She told me it's great for fighting infections and no home should be without it. 
Hope your natural eye infection remedy works! Be sure to check out my other natural farmyard remedies if you haven't yet.