We're getting close to planting season again. I'm trying to plan ahead and really work towards getting our chickens food growing right around their coop.

Because, I think you might have noticed, chicken feed is...
E. X. P. E. N. S. I. V. E. !
Especially when your chickens aren't laying any eggs! :-(
It seems as if they won't give up their finicky laying patterns. One year the summer was too hot, and they didn't lay. The next year they kept laying right through the summer and stopped for the winter.
Sometimes I find myself wondering about them.
I really get tired of buying all their feed, because I know WE DON'T HAVE TO! 

I've done lots of reading up on it and I'm convinced we really don't need to be buying their feed. There're so many ways to cut costs on your feed bill. Today I'm going tell you about all the amazing things you can grow for them.

Disclosure: Some of the links on this page may be affiliate links, meaning I may get a small commission if you make a purchase. Read the full disclosure here.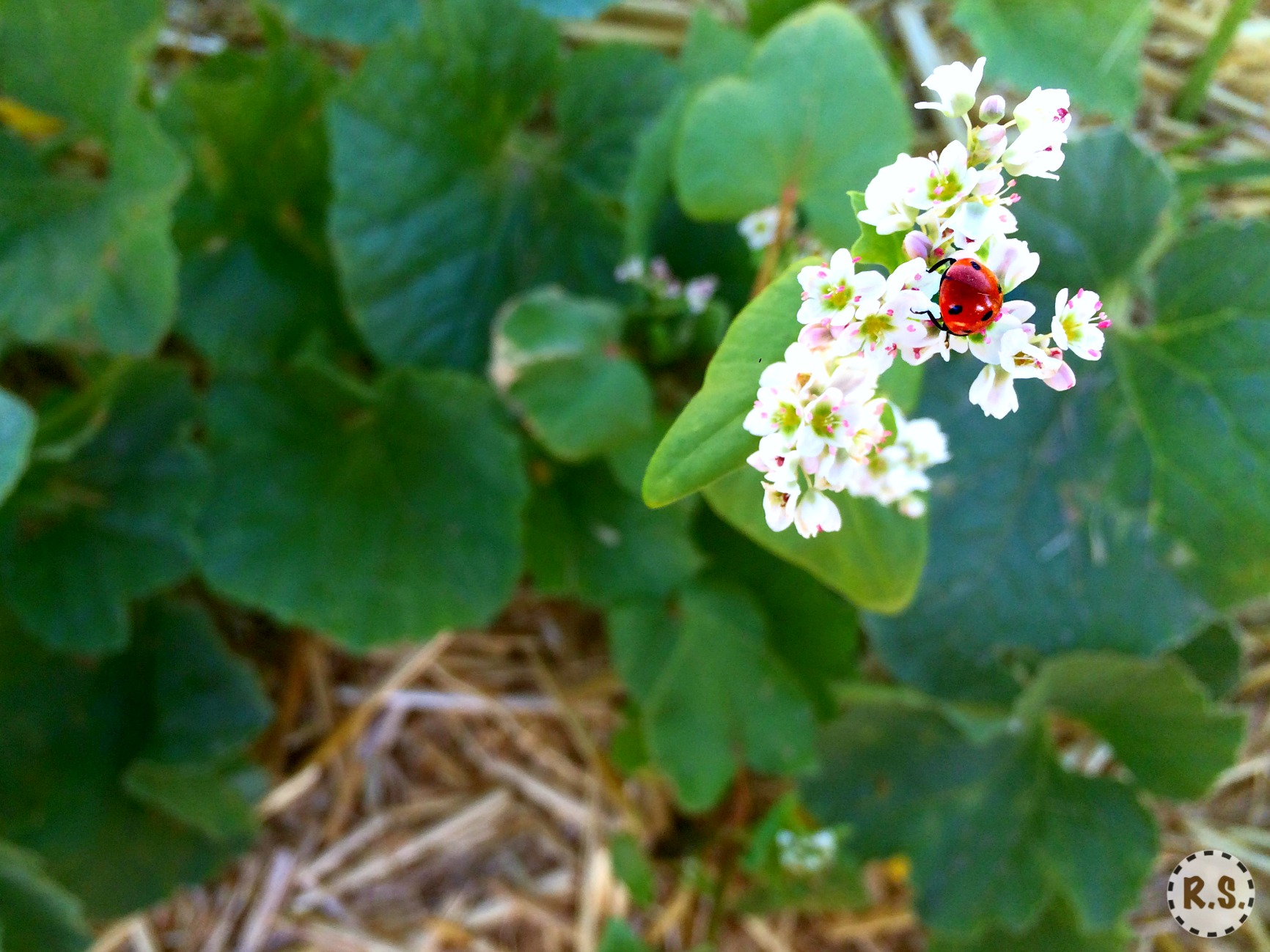 A lady bug on some buckwheat flowers.
Here're are 15 things you can grow as chicken food. Things you can plant in your chicken garden. Free food & shade for your chickens in the edible landscaping right outside their coop.

But it's better than that! Many of the things I've listed below are perennials (meaning they grow for years with little maintenance) or hardy self-seeding annuals.

Once you plant them there's little work on your part to keep them thriving. And they will continue to feed your chickens for years.

Growing your own chickens food will save you money and keep both you and them happy. :-)

Let's start!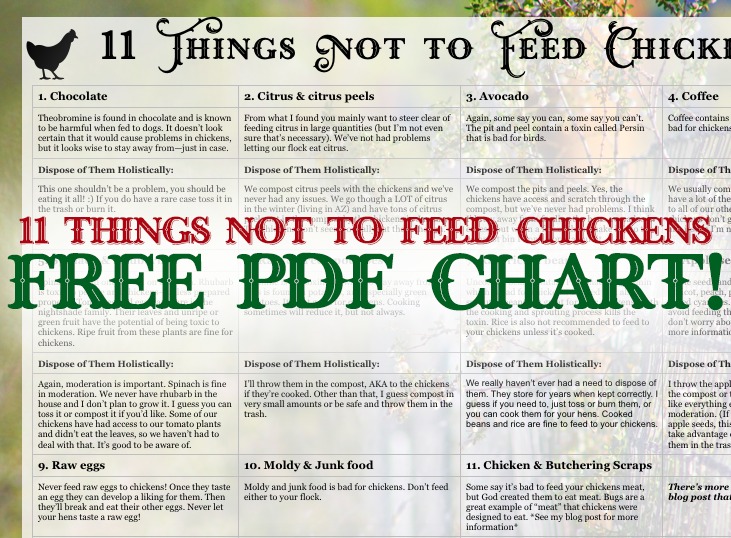 Do you know what NOT to feed your chickens?
Here are 11 things not to feed chickens in a easy-to-reference chart! Download Your Own Copy Now!
Psst! Just so you know you are also signing up for my email list. You can unsubscribe at any time.
15 Plants To Grow That Will Lower Your Chicken Feed Bill
Weeds, Cover Crops & Grains
Weeds and cover crops can be some of the BEST things to feed to your chickens. They're high in nutrients and many are good for giving you the lovely dark orange egg yolks.  There is no reason to skip these. They're cheap and easy to start planting. Buy a few seeds, plant & water, and your up & running. You may even have these growing in your yard right now! Let your chickens go get them, or chop them down and take them to your chickens.

14. Stinging Nettle: weed & herb
13. Comfrey: cover crop & herb
11. Yellow Mustard: herb & vegetable
10. Alfalfa: cover crop & herb
9. Clover: cover crop & herb & grain
8. Buckwheat: cover crop & grain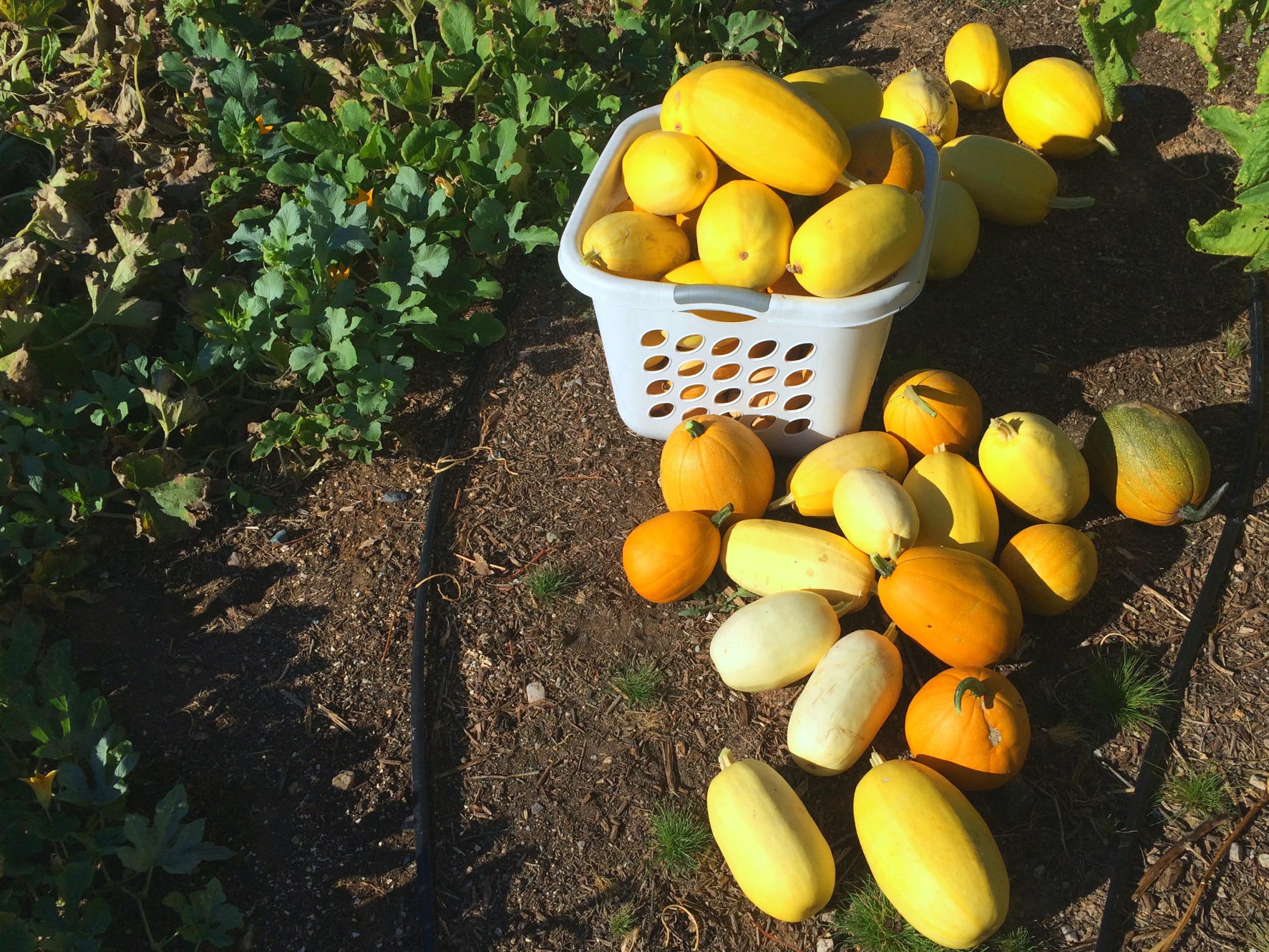 A large squash harvest from the summer of 2016 (this year :-) ) Chickens love squash!
Vegetables
Pretty much if you can grow it and you can eat it so can your chickens. They would love any squash, potatoes, tomatoes, watermelon, etc. from your garden. There are a few things they can not eat, but not much. Here're few really great things to feed them...

5. Sunflowers: seeds & make sure to feed the leaves and stalks to your goats or compost them.
Dandelions relatives are great for chickens.
Fruits and Berries
The best for last! These are perennials, meaning plant them once and they'll keep producing for years. I suggest you plant them near your chicken coop. Once the fruits are ripe I would go in and gather whatever you want and then let the chickens get what you miss. For some fruits this will work better than others. The chickens might get all your blackberries because they're so low, but you should be able to harvest a good amount from your trees before they drop for the chickens. 
I've heard a lot of good things about Mulberries and can't wait to try them! It sounds like they provide TONS of both fruit and shade. A+!

4. Elderberries: small tree or shrub (equals shade) & fruit
3. Blackberries: fruit
2. Figs: tree (means shade) & fruit 

1. Mulberries: big tree (lots of shade) & berries

I hope this list was helpful. Now you can get out there and plan how to get your chickens food growing right outside their own coop.

I hope you see there are more benefits to this than simply cutting your feed costs, which  by-the-way, would be enough in and of itself...

But by planting food for you chickens you are:
Creating shade
Encouraging beneficial insects
Improving of fixing your soil and the microorganisms in there
And making it over-all a nicer place to be & see!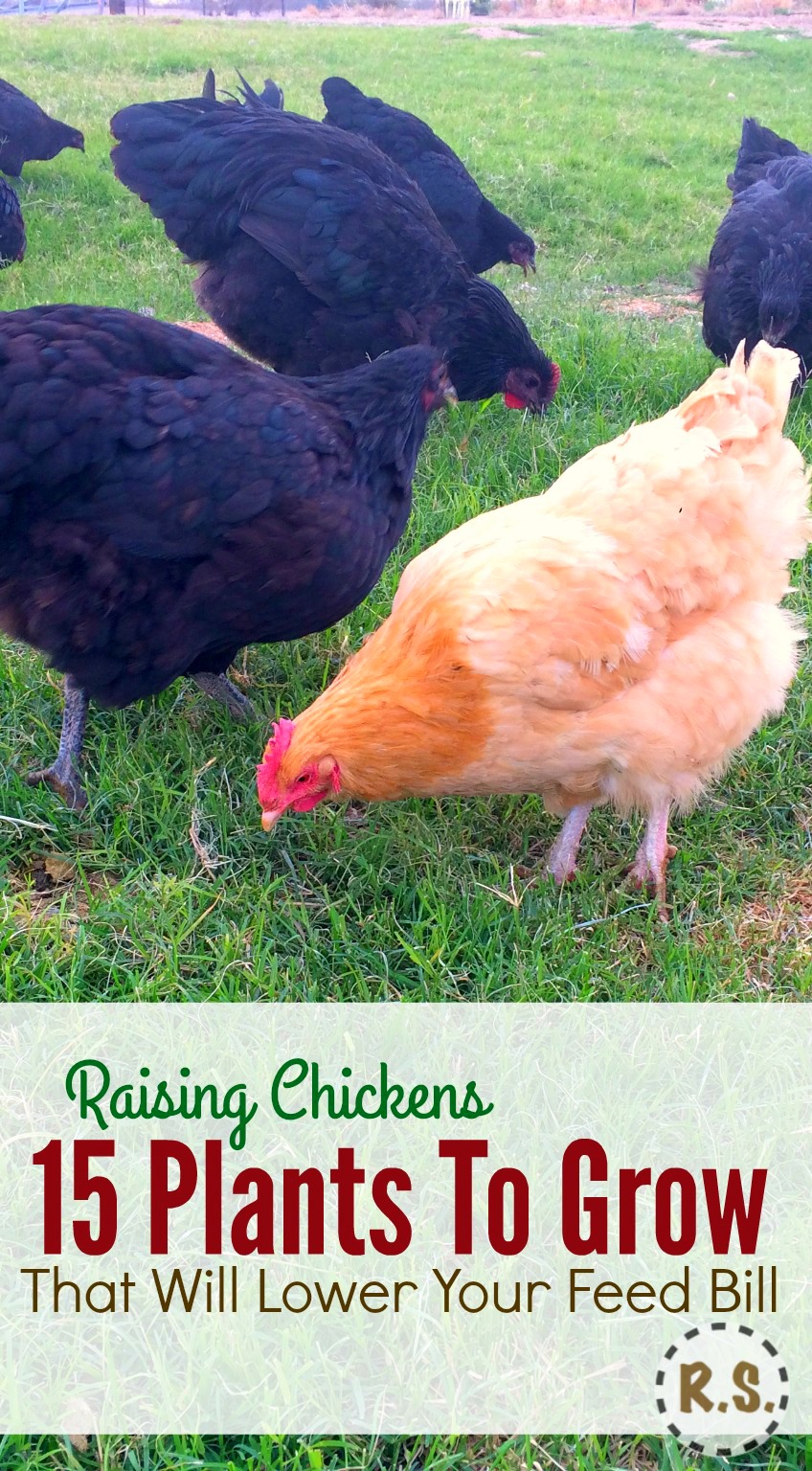 I can't wait to get these growing for our chickens! At least when they stop laying we aren't paying tons to feed them (And buying eggs form the grocery store). :-)

Be sure you know what you feed your chickens is safe for them to eat. Download this chart, or read more about it here.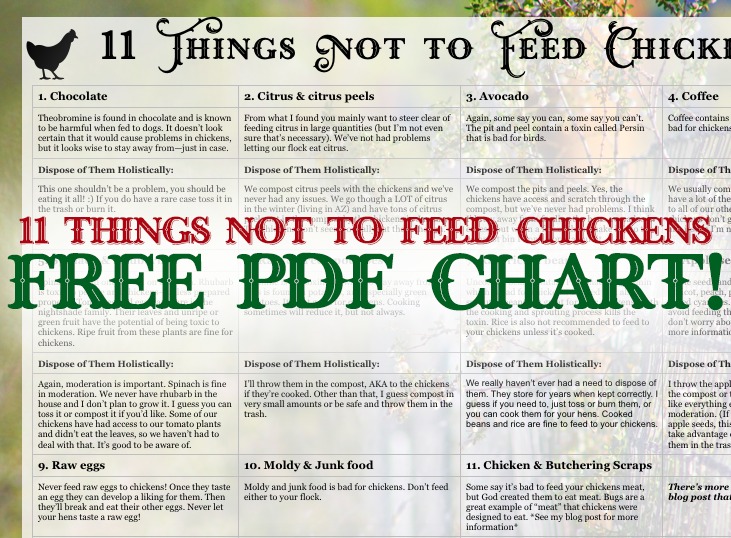 Do you know what NOT to feed your chickens?
Here are 11 things not to feed chickens in a easy-to-reference chart! Download Your Own Copy Now!
Psst! Just so you know you are also signing up for my email list. You can unsubscribe at any time.
If you're interested in cutting your chicken's feed bill even further, check out this page to learn more: