I always love a full busy day when I get a lot done. I fall asleep faster at night...
Enter...
Our first kidding season! Crazy, long, never-been-so-tired-in-my-life few months.
More work than I ever could have imagined.
Was it worth it?

If you haven't yet go back and read part one. Then come back and keep reading.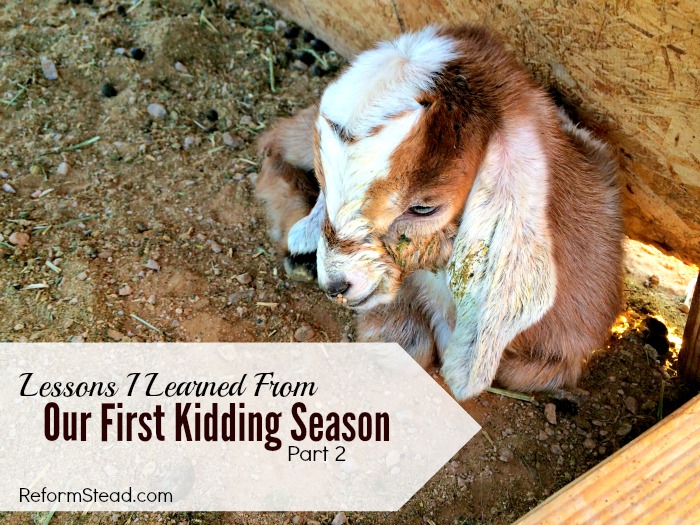 Disclosure: Some of the links on this page may be affiliate links, meaning I may get a small commission if you make a purchase. Read the full disclosure here.
Our First Goat Kidded On May Third
I was now tying up the mom for her kids to nurse...
I had to stay right there...
When she was misbehaving, I had to get down and hold her hind legs still!

Starting off at three times a day. Later in the week going down to twice a day.
Each time taking about an hour.

The Rest Of Life Doesn't Get Easier Because You Have Newborn Kids
At the same time...
I have chicks hatching from my broody hens (first year)...
Guineas coming in the mail (first year too)...
And trying to finish up my school!

When it rains it pours! 
Milk Again!
Saturday I started milking a little bit of the milk for our own use. (It was missed so much while they were dry.)
I wasn't sure how much to take, so I took less than half. Equaling about a quart.
Doing the same in the evening, I speculate she's producing over a gallon total. 
The Second Kidding
---
On May 12th  data-custom-mark="true"I was cleaning some cilantro seeds and went outside to toss the chaff in the garden. 
I looked over and saw Milky laying on the ground tossing her head and kicking. 
Running back into the house I grabbed my phone/camera ;-), telling my sister the news as I ran back out.
I could see the kid's feet and nose. (He was in the right position!)

Milky got up and started walking around. When she did so, the kid went back in. She did this a few times. She would get him a little bit out, but he would slide back in when she became restless and walked around.

I wasn't sure what to do.
I didn't want to jump in too soon, but I didn't want to wait too long either. My mom was out there at the time and thought I should help pull him out. So I did. But she kept trying to run away from me as I was helping her. (Which didn't help.) 

Her second kid came out with no help. She came fast!
The whole birthing procedure lasted about an hour and a half.
She had a buck and a doe!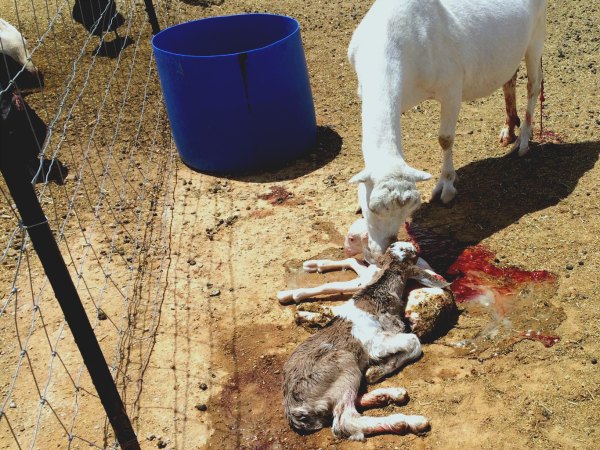 New kids getting licked off.
Now For A Great Mom & Easy Chores! ...Right!?
Excitement! 
Now for a healthy mama to newborn goats relationship! She has had kids before and knows what to do...
Right!?
Well...maybe I got my hopes up too fast.

Stink!
I was hoping she would be nice to her kids, but it turns out she likes one and not the other. She lets the doe nurse, but not the buckling. So I had to tied her up too. (Just for it's sustenance! In the wild there can't be many if any goats like the ones I am dealing with.)
Tired!
At this point in time you could have quoted me I said it so much... 
"I've been so tired lately it's not even funny." 
Nothing was going the way I thought it was supposed to. :-)
My Chores At The Time:
---
Tie up Milky to let her nurse her kid. Three times. She's not any better than the first goat.
Here are the chores right now...
Get up at 7 a.m. and start milking Yeller. Milk a little less than half. Then chain her to a fence, and let the kids nurse. 

While they are nursing, go and put the milk away in the house. 
Come back out and feed two of them, Blacky (due any day), and Milky.
Next tie Milky and hold her hind legs still so her kid can nurse. 
When he's done nursing, finish with Yeller. Put her full bellied kids away and feed her.
About lunch time go out again.
Tie Milky to a fence, and let her kid nurse. 
The evening chores are the same as morning chores. 
All-in-all, it takes two to three hours to do all the bare bone chores each day. Leaving no extra time for any thing else.
But a lot more is being done, and needs to be done. 
The moringa still needs to be planted... We have lots of chicks hatching... The kids need to be dis-budded... And new guineas to care for.
Final Kidding
---
May 18th I went out and found Blacky (the last to kid) had adopted Milky's buckling. The one Milky had rejected.

Strange!?
I separated him because he was nursing off Blacky's colostrum...and we can't have that.
I also noticed Blacky in general was acting a little funny, and I guessed she would kid before the day was out...
But being pretty new to this whole kidding business, I didn't place too much weight on it. 
I went into the house for a few minutes...
Coming back out to start chores, I found a seconds-ago born kid being licked off!
In the end Blacky had one kid.
A doe!

Our Goat Licking Off Newborn Kid from Julia Hubler on Vimeo.
Success!
She was an amazing mother to her! 
She let her kid nurse! And was so sweet to her.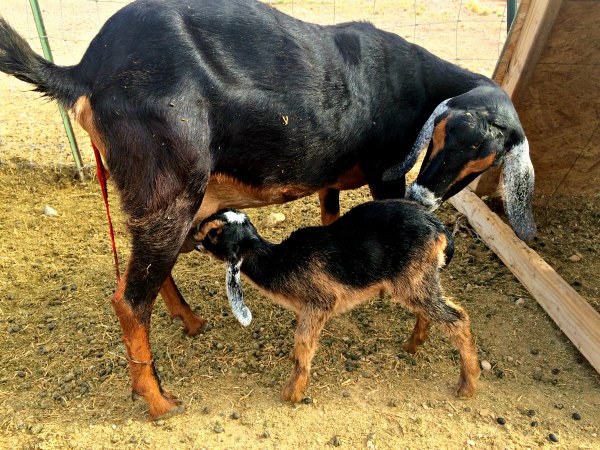 New kid getting her first drink.
I was thrilled! :-)

Everything went great with her.
Hence, it therefore remains the shortest and sweetest of the stories. :-)
Now For Some Order!
By now, I have to make a list of what I had to do when. There is so much spinning around in my brain and going through my head, I need to get it all straight on paper.
The Milking and Chore Routine
MORNING:
Milk Yeller. Leave some for the kids and let them nurse.
Milk Blacky and Milky all the way. 
Put all kids in large pen with nice mothers.  
Put Yeller in small pen. (Too mean to the new kids.)
EVENING: 
Milk Yeller.  
Feed Milky's buckling.  
Put Yeller in the large pen--and all the kids in the small pen.
Side Note... Mastitis
Yeller also got mastitis during the whole deal. Which complicated everything even more...

But I'll save that for another post. ;-)

She got it bad. I came up with some crazy herbal remedies for her. And they helped fast!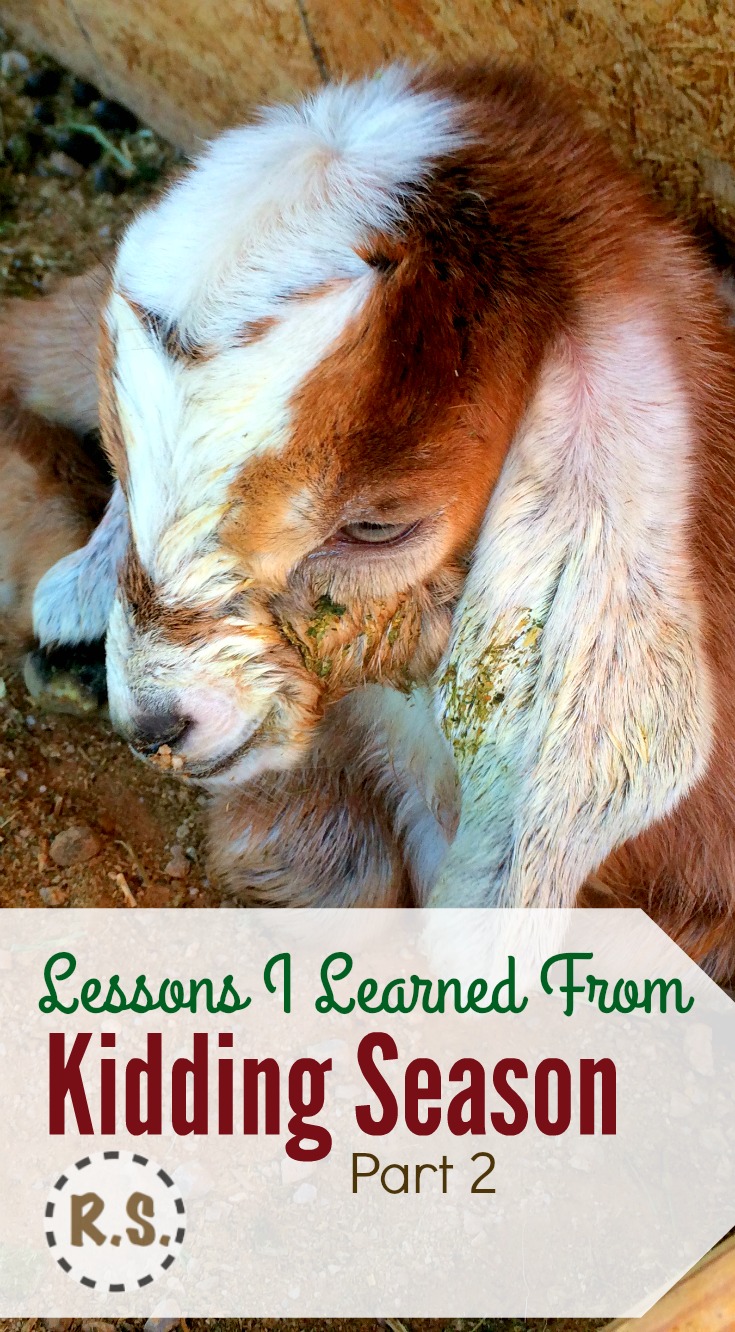 Crazy... But Still Great!
---
The end of our first kidding season!

It was a few crazy, long, never-been-so-tired-in-my-life, few months...

But I learned a lot!

And when all is said and done... 
I still love homesteading.
Every bit of it. :-)