Make a powerful colds and flu remedy with this easy fire cider recipe! 
Fire cider is AMAZING at stopping sicknesses. Take it at the beginning of symptoms and stop a cold before it starts. :-)
This stuff is amazing for you!
It contains many powerful ingredients helping to either build or restore your immune system. This fire cider recipe is...
A digestive aid
Anti-inflammatory
Anti-bacterial
Anti-viral
And over-all a great immune booster!
If you feel a sore throat, stuffy head, or any other cold or flu symptoms coming on, run to the fridge, grab a spoon and take some fire cider! Keep taking it until you feel normal again. If you catch it soon enough you might not get sick at all! Now don't take this too far. :-) I'm not saying you'll never get sick again. But I know it has kept me from getting sick many times.

And, in case you're wondering...
Yes, it's  HOT!
If you can't take the heat I would lighten up on the cayenne. 

Remember though, it's a tonic. It doesn't have to taste good, as long as it works...Right? ;-)

I've also included an instant fire cider recipe, as an option too. For those who need it now and just heard of it. (Or if you are like me and you *he-hem* 'forget' to make it in time.)
Disclosure: Some of the links on this page may be affiliate links, meaning I may get a small commission if you make a purchase. Read the full disclosure here.
Fire Cider Recipe In 3 Easy Steps
This is a super easy and flexible recipe. All you need are equal parts of the following:
Onions
Garlic
Horseradish *I've made it without this if I don't have it at the time and it turns out fine too
And then enough...

Here's the basic idea to make a half-gallon jar:
In 3 Easy Steps...
Place all your ingredients (except the apple cider vinegar) in your vita-mix (my favorite) or blender.
Add in the apple cider vinegar and blend. (You may need to push the chunks down every now and then while blending.) Blend for thirty seconds or so. It will still be a little chunky when done. That's perfect. 

Pour into a 1/2 gallon glass jar, screw on a plastic lid, and let it sit for three to four weeks.

Why a glass jar and a plastic lid? 
Is you use a plastic jar or container, you will get the nasty chemicals in the plastic leaching into your fire cider, which you will then drink. You don't want that. And if you use a standard metal canning lid and ring they will rust. And you don't want to be eating that either. so it's best to stick a glass jar & a plastic lid.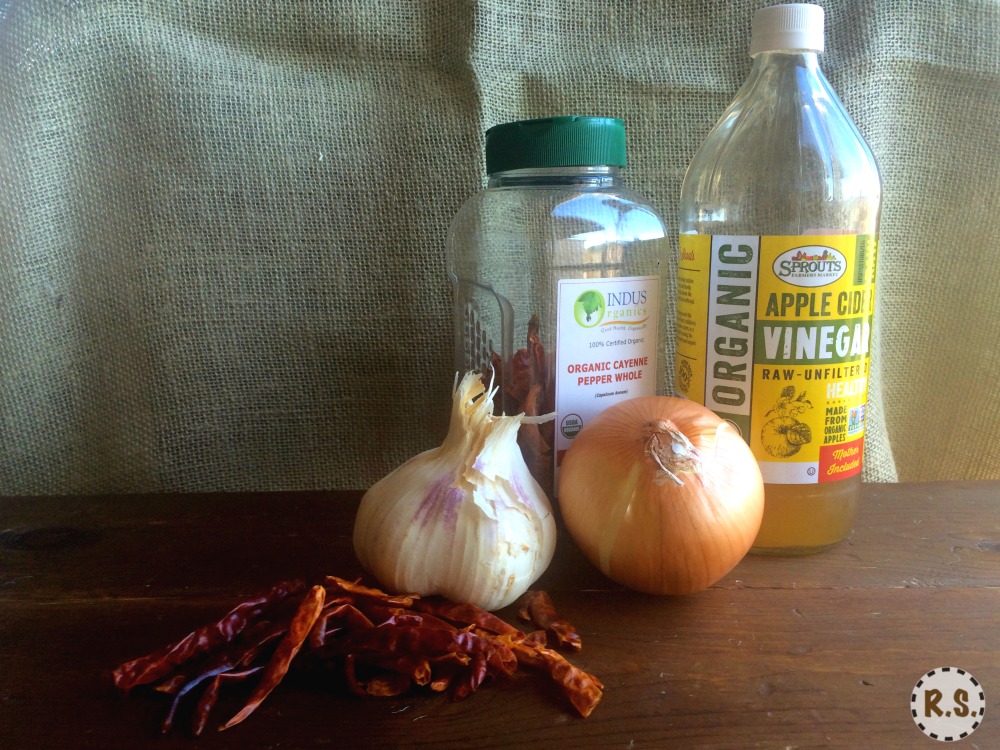 Instant Fire Cider Recipe: A Faster Alternative 
If you need this right away I would recommend making this and the longer way (above) at the same time so you will have it ready in a few weeks.

But if you need it now here's what you do:
Using the same ingredients as above, take the onion, garlic, cayenne, horseradish, and place them in a large mug or heat proof container. 
Pour some boiling water over top, just enough to cover the ingredients. Cover and let it steep for about 30 minutes.
Once it's cooled strain off the chunks of onion, cayenne, etc. 

Add in the ACV. The other ingredients are doing most of the work, so don't worry about perfect measurements with the ACV. *Note: Don't add the ACV when the 'tea' is hot or you will kill off all the good bacteria, and defeat the purpose.

Store in the fridge:
The instant version will last at least a week.
The first fermented recipe will last for many months in the fridge. It's great stuff to have on hand.
Using Your New Fire Cider
How Much Do I Take?
I take 5 ml as one dose. Because our measuring syringe is that size. You can take (within reason) as much or little as you want. Some people like to eat it on their salads. Good for them! It's amazing for you...but I don't like it that much. ;-)

How Often Do I Take It?
As a preventative, take it once a day. 
If you feel like you're getting sick take it right away. Don't wait! You may be able to stop the cold, etc. before it even starts. Take it up to three times a day when you're not feeling your best.
If you're sick you can take it up to once every hour.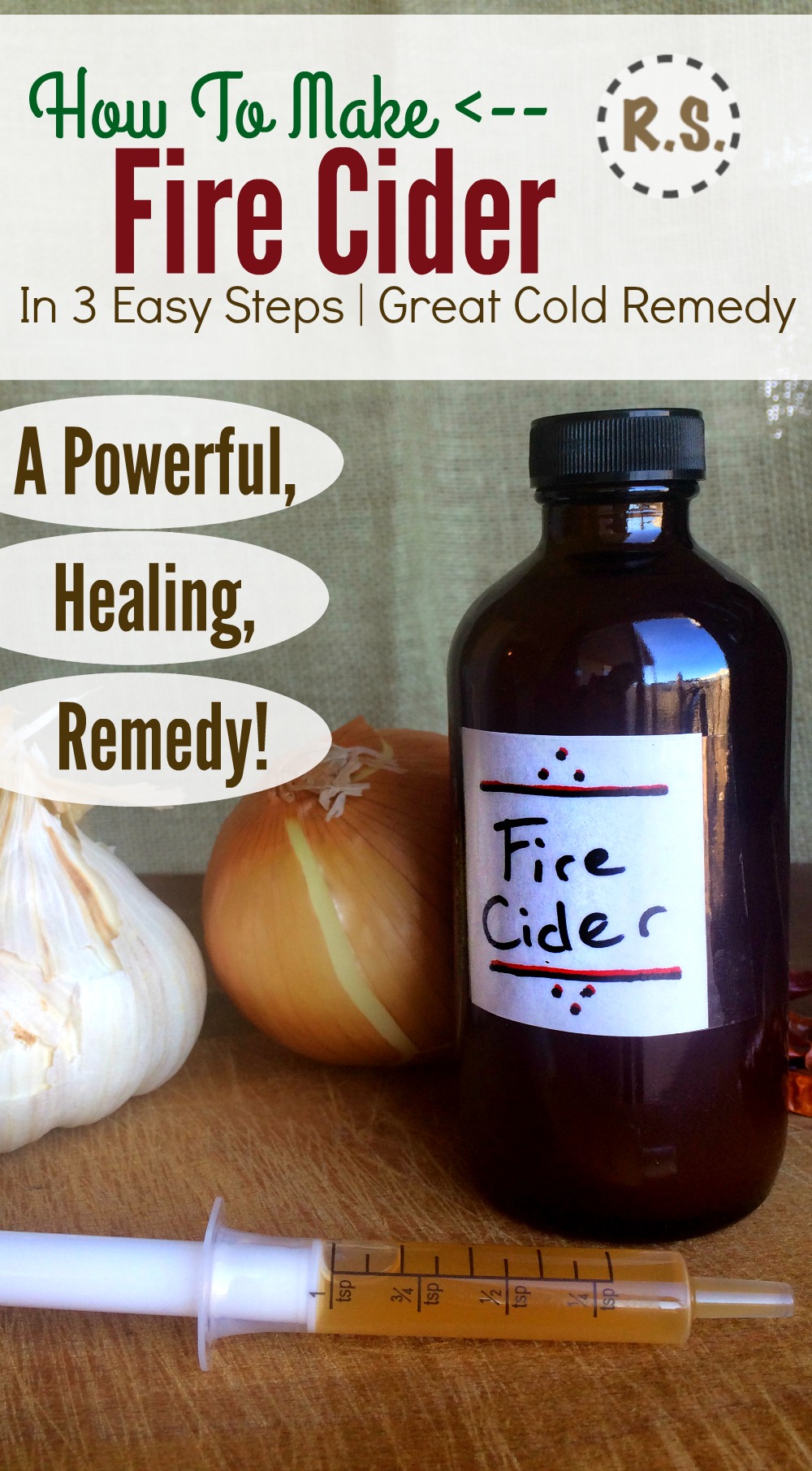 Enjoy your new fire cider!