Fermenting chicken feed for your backyard chickens is a great way to save money on their food. It also provides healthier food for your flock.
I just made some fermented feed for our first batch of meat chicks and they loved it! I had the dry feed in the brooder for the first day and they didn't seem too interested and they didn't eat much of it. On the second day when the fermented feed was ready I gave them some (and left the dry feed in). To my surprise they gobbled it up! They went from not really interested in the dry feed, to loving and eating the fermented feed.

Fermented feed can be fed for your baby chicks, egg layers, or meat chickens—at any stage of their lives. They'll all enjoy it and the extra probiotics are great for their health and the heath of the eggs and meat you'll harvest.

The Health Benefits of Fermented Feed to Chickens
If you're making sauerkraut or other fermented foods for your family you probably already know all about the great probiotics in ferments.
Chicken food is no exception. Just like you benefit from the live probiotics, beneficial bacteria and other live organisms in sauerkraut and kefir, so do your chickens benefit from those same living creatures found in fermented feed. Plus it's easier for the chickens to digest. 

Disclosure: Some of the links on this page may be affiliate links, meaning I may get a small commission if you make a purchase. Read the full disclosure here.
Fermenting to Save Money on Your Feed Bill
Yes! Fermenting can save you money. 
When a chicken eats the fermented feed, the nutrients are absorbed into the chicken's body more efficiently than when eating the dry feed. This means that they get full faster. Getting full faster means they eat less—meaning you don't have to buy quite as much feed. 

Fermenting feed is a win-win. Healthier chickens for less money! 

What if I Don't Have Time for Another Chore
Yeah, who does? The great thing about this chore is it's an easy, low-risk job. For these reasons, it may be a great job to pass along to a younger worker. Kids can learn how to ferment the feed, watch for mold and feed it to the chickens. 
If you don't have another helper, it doesn't take much time—once it's in your rotation.

A Few Things to Know About Fermenting
1. Temperature affects the time
The temperature affects how long your feed needs to ferment. If it's too hot it may ferment way too fast or go bad. If it's too cold it won't ferment fast enough. Even with the suggestions below, you'll need to play-it-by-ear with a combination of the temperature and amount of time needed until you get the hang of it.
The exact temperature you should ferment at is hard to say. Some say 70 degrees, but I've found it works at our room temperature which right now is about 90 or more. If you're close to 70-90 degrees you should be okay.
2. Smells during the fermenting process
It is normal for it to smell while it's fermenting. The smell though should not be a foul, or moldy stench. Just the sweet-sour smells of any natural ferment—kinda like yogurt.
You may want to ferment outside—because of these smells—which means fermenting would be a seasonal chore for when the weather is right. 
3. Controlling Mold
When done correctly mold shouldn't be an issue. If/when you do run across mold, here are a few things you should know. 
A whitish-clear thin film of "mold" is fine and part of the good ferment. 
Any black mold is bad and should be removed if there is only a tiny bit. If you cannot get all the mold out then toss it (it's probably best thrown in the trash, not the compost). If it ever smells like it went bad, with a foul or abnormal smell, get rid of it. 
Removing the floating things from the bucket is great prevention against mold. 
Making sure the temperature is right is also important for preventing mold.
Another thing I've read you can do is add a splash of apple cider vinegar.
What Kind of Chicken Feed Do I Use?
Any feed or grains you are using now will work to ferment.
Pelleted feed and crumbled commercial feed turn into mush in the bottom of the bucket. You can still make this work though. As long as it's sitting still it stays in the bottom and you can slowly and carefully scoop it out and feed it like that or drain a little bit of the water off first.

Grains (like oats, wheat, barley, etc.) and grain mixes can also be fermented and—because they don't turn to mush—they are easier to work with than pelleted feed.

How to Ferment Chicken Feed in 3 Easy Steps
The actual job of fermenting feed is very easy. Here's the basic how-to in three easy steps.

Step 1
Place one day's ration of chicken feed in a food grade, 5-gallon bucket. 
*Make sure the feed isn't going to expand too much or divide their day's ration into multiple buckets. For starters, don't fill the bucket more than a third of the way full. It needs room to expand when you add the water and during the fermentation process. 

Step 2
Add water. You need enough water to keep the feed covered a few inches above the feed/grains the whole time—but you also have to make sure there is enough room in the bucket for the feed and water to expand and bubble during the fermentation process. After adding water, anything that's floating on top needs to be scooped off (to prevent mold).

Step 3
Let it ferment in a location that's about 70-90 degrees for about 24-48 hours. 

Keeping Up the Rotation
After making a day's worth, you can keep a steady supply of fermented feed for your flock by following this rotation pattern:

Day 1
Follow steps 1-3 for making your first batch.

Day 2
Follow steps 1-3 to make your second batch.
Feed your chickens the feed you started on day 1.

Day 3
Follow steps 1-3 to make your third batch.
Feed your chickens the feed you started on day 2.

Day 4
And so on, and so on…It's really that easy!

You can ferment twice as much on Saturday and then on Sunday so you have less work. Then go back to the normal rotation on Monday. 

Tips for Feeding Fermented Feed to Your Flock:
The Best Feeding Dishes for Wet Food
Plastic dishes that are shallow and wide are the best for feeding this messy food. Shallow and wide containers keep the chickens from dumping them too easily and I like plastic because metal rusts. These feeding dishes are great—>
Straining the Water—Or Not
Straining the water is optional. See what your chickens think of it. If they will eat the water along with the feed then don't bother straining the cloudy water—it's good for them. If you have picky chickens strain it and use the water in one of the following ways. 
How to Use the Water
If your chickens won't drink the water here are a few other ways you can use it. Don't throw it away! There are lots of good probiotics you don't want to waste. Remember, we want a holistic homestead.
Feed it to your pigs
Feed it to your dogs or cats
Dilute it and use it on your garden, trees or pasture
Dump it in your compost pile
Adding Other Minerals
If you have minerals like kelp you'd like to add to your chicken's feed, do so after it's fermented. 
Feeding Fermented Feed To Chicks
Get your chicks off to a healthy start! Ferment small amounts and starting from day one, chicks can eat and love fermented feed.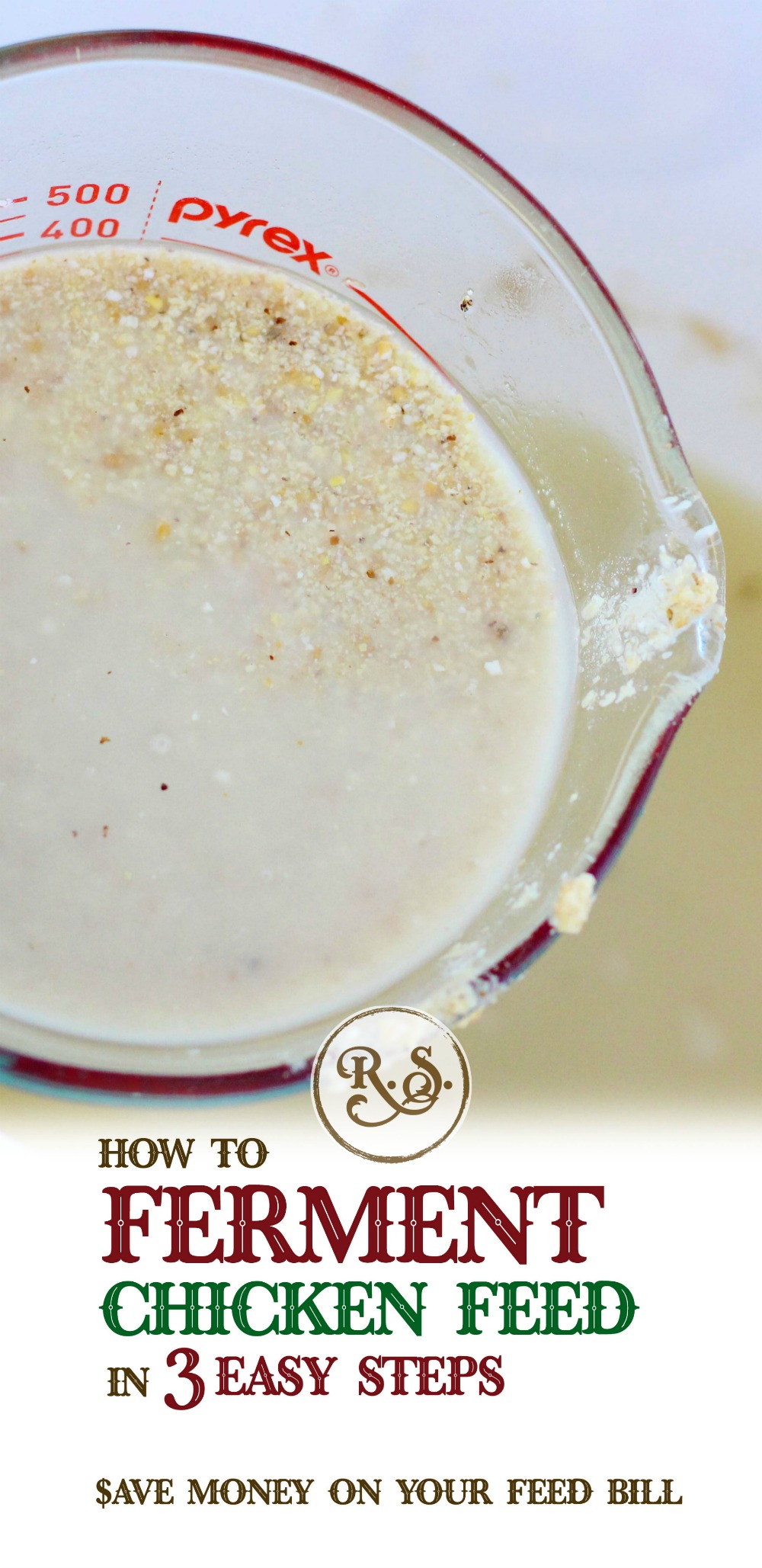 ---
A Holistic Option for Your Homestead?!
I think so. Although it's something we aren't going to be doing all the time it's great to do on occasion. Also, after our experience with the Cornish cross chicks we just got and them loving it so much, I think it's good to start chicks on fermented feed—even if they don't stay on it.
This is yet another piece to your chickens food network. Another way to cut back on the amount of feed you need to buy for them. 
To learn how to cut your feed bill even more see my post, 10 Ways to save on your feed bill.