Enjoy making these easy ice cream recipes! There is nothing like good homemade ice cream. Especially when you are raising or growing the ingredients right in your backyard!
We aren't all the way there yet, but we are able to use fresh eggs and milk from our backyard. :-)
It's a working progress, but we're getting there!
It will be great when we can have the cream (cow), and honey (bees) right from our homestead as well...but for now we still enjoy these delicious, easy ice cream recipes and I'm sure you will too!
Easy Ice Cream Recipes <---
Easy Vanilla Ice Cream Recipe
Ingredients:
3 pastured eggs
3/4 cup honey
2 teaspoons homemade vanilla extract
2 1/2 cups raw milk, I used goats milk, you can also use cows milk
1 cup cream
Make It
Whisk together the eggs, honey, vanilla, (and add any other optional variation ingredients, cocoa powder or strawberries).
Add in the milk and cream. Mix until throughly combined.

Following your manufacturing instructions, churn it into ice cream! 
I really like our Cuisinart Ice cream maker.  We have a few of them and love how easy and quick it is to make up a few batches for our large family!
When your ice cream is all done, serve and enjoy!
Variations:
Easy Chocolate Ice Cream Recipe
This is a nice rich chocolate ice cream. If you love chocolate you are bound to like this recipe.
Add the cocoa powder into the recipe above with the eggs, honey and vanilla. Continue the same as the original recipe.
Easy Strawberry Ice Cream Recipe
This strawberry ice cream is so good! It tastes even better if you let it sit in the fridge for a few days.
2 cups strawberries, chopped or blended. It's up to you.
Add the strawberries into the recipe above with the eggs, honey and vanilla. Continue the same as the original recipe.
After You've Made It...
You can enjoy your ice cream as is or try some of the options below!
Sundays... 
Banana Splits... 
Ice Cream Sandwiches... 
Ice Cream Cake... 
Or Just A Little (well...maybe a lot :) ) of Whipped Cream!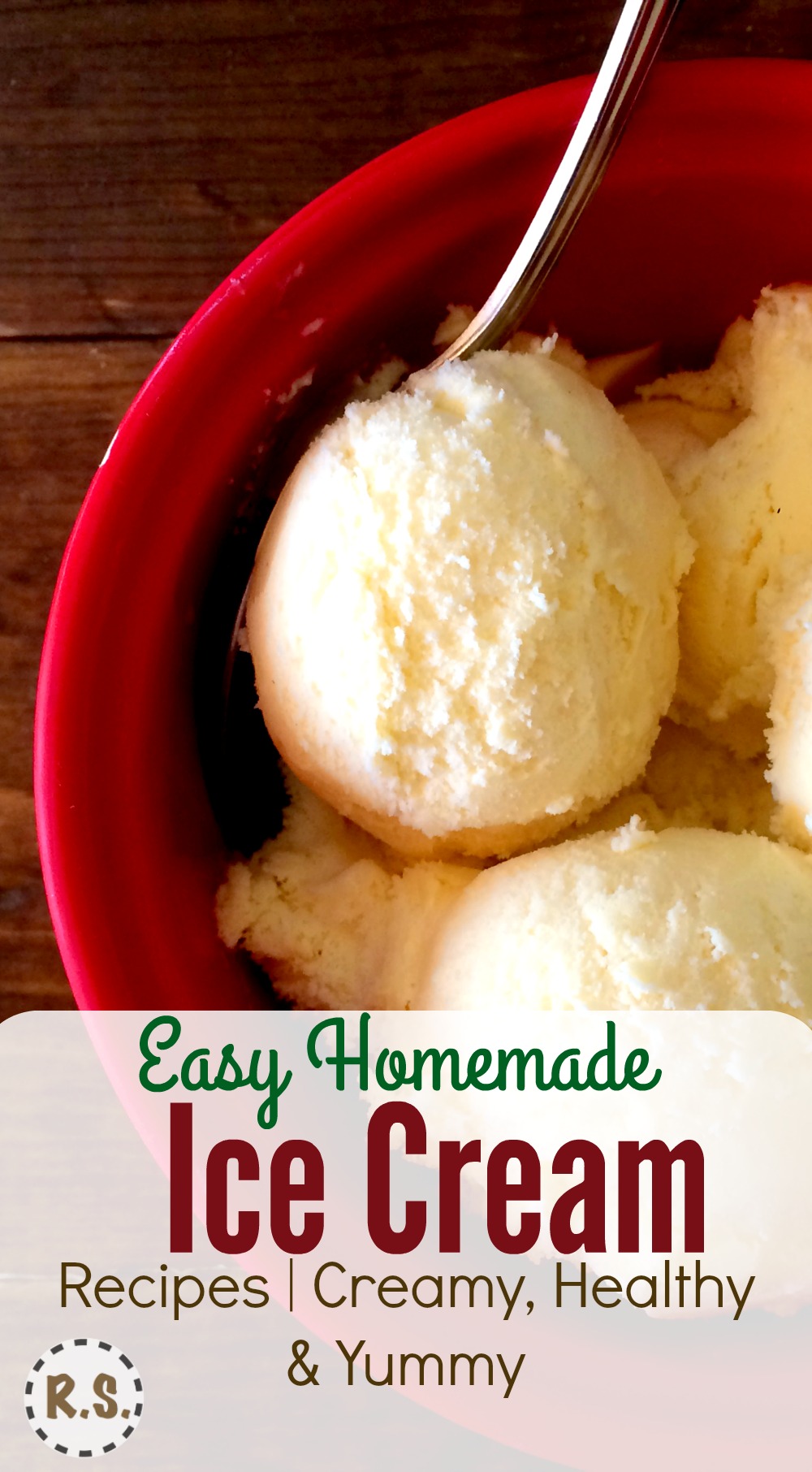 How do like you best like your ice cream? Let me know how yours turns out in the comments below. :)
Enjoy your delicious ice cream!