I am always looking for new and creative ideas. Cake decorating ideas included! 

It is always fun to surprise someone with a fun cake! Be it a birthday, or another fun event. :)

Don't let a few diet restrictions stop you.
Some of us have/had trouble with gluten, nuts, dairy, eggs, at different times.
As you will see, there are many cake decorating ideas that you can whip up...It is just as much fun as the junk too... And make it 'everything-free' at the same time! Just be willing to adjust a few things for your specific allergies. 
---
Birthdays Around Our House
I have had fun making lots of cakes. With five younger siblings, we have quite a few birthdays a year. 

So over time I have had fun making up different ways of doing it. I hope you have fun with the cake decorating ideas listed below. 
Please Note:
Some of these are a little bit more challenging than others. While some are quite easy, some took me quite a few hours to accomplish. 
I hope you will have fun with them. And they will start your imagination going. :)

Healthy Cake Decorating Ideas:
---
Decorating Idea #1
I made this for my mom's birthday a few years ago.
I (think, it has been a while :)) it is a raspberry cheese cake. 
I made a cluster of raspberries and a few mint leaves with pretty white candles to finish.
Simple, yet elegant. 
--Besides, you can't beat a good cheese cake! ;)
---
Decorating Idea #2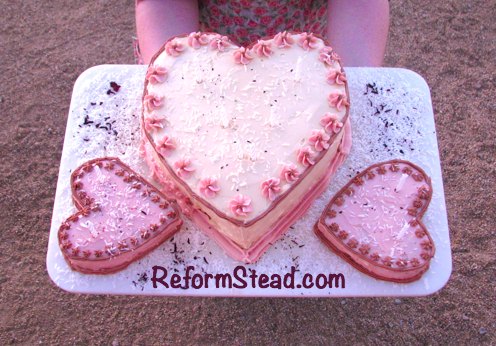 This cake I made for one of my sisters birthdays.
I made the cakes out of coconut flour. I iced them with a good butter cream frosting. And I used hibiscus for the pink food color.  Chocolate for the brown. 
My mom's website has the cake decorating instructions. If you want more details.
---
Decorating Idea #3
This is one of my favorite Cake decorating ideas! :)
These gun cakes I made for one of my brothers. I knew he would love the cowboy theme. 
I did some google searches and found pictures of the pistol and sheriff badge. I had to draw the riffle out on a few sheets of paper and tape them together. I cut out the shapes.
Then I laid them out the cake I made (coconut flour), and cut the cake. I had to cut the riffle out of a few pieces and then put them together. It is too long to bake a cake that length. :)
For the "custom tray" that the cake is on... I used a sturdy piece of cardboard and covered it with foil. 
He couldn't have dairy at the time. So I made a dairy-free meringue frosting and added chocolate for the brown. I had a little trouble with that though...
After I made the frosting, I re-whipped it for the chocolate. It was a little runny and difficult because of that... But it worked out. :)
---
Decorating Idea #4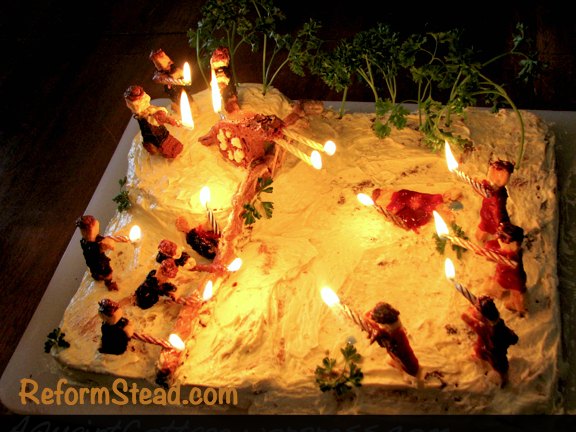 This I made for another brother's birthday the same year. It is supposed to be a battle between the colonials and the red coats (whom, at the time, he thought we where still at war with :)).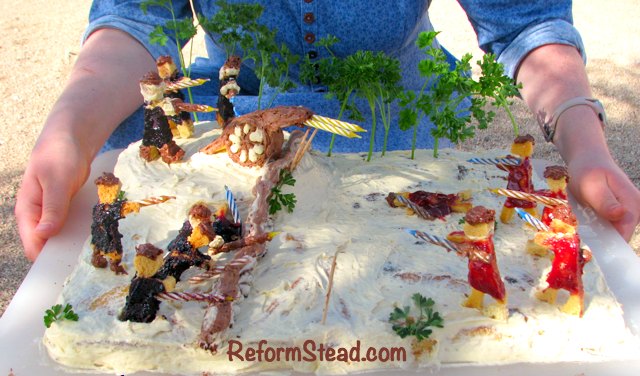 I made the flat cake--on the bottom--in a 9x13" pan. I think there might be two up together, under the icing.
Then I also baked the "hill" in a small round cake pan. I cut the edges to smooth the angle up the hill.
The wall that the colonials are resting there guns on... Is made with icing. For this icing I used butter cream again. 
I cut the little men out of an extra cake that I baked. That was challenging. They kept wanting to break on me. 
I made strawberry and blueberry jam for their coats... And a little brown frosting for their hats. 
I also made the canon out of extra cake. I think I used tooth picks to help it hold together. 
The trees in the background are... Parsley! Put them on right before for the show though. They wilt pretty fast. But it wouldn't be the same without them.
The guns! That is the best part! While I was in the process of making this, dad came out to see it. He came up with the idea of putting the candles in for the guns. It turned out so perfectly! 
Light and sing quickly though. Before there is too much wax on everything. :) We found that out. 
This was probably the most difficult and time consuming cake I have ever made. But it was a ton of fun... And he loved it! Totally worth it! 
---
Decorating Idea #5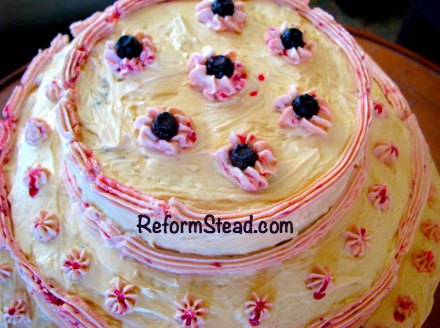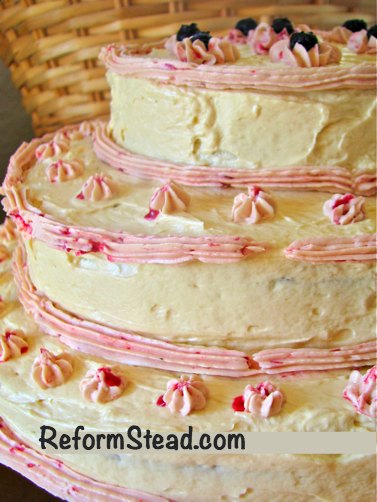 This I made for one of my sisters. I can't remember for sure what I used for the pink food coloring. I think it was probably this pink hibiscus natural food coloring recipe. It might have been a berry though...
I also placed the blueberries in the center of the 'flowers' for some added accent. 
It is frosted with buttercream frosting.
---
Decorating Idea #6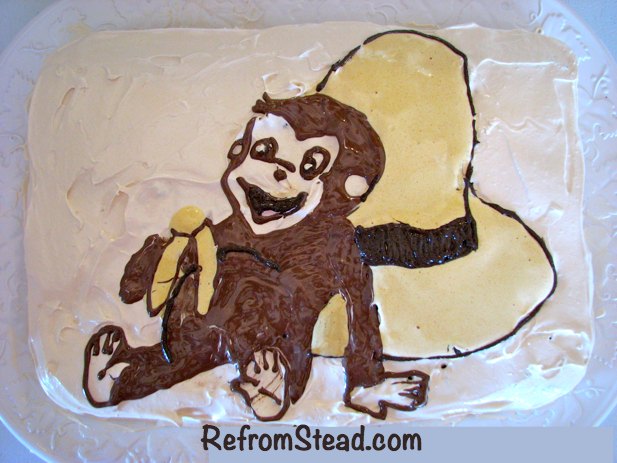 Another cake for a brother's birthday.
I found a picture of Curious George online and copied it onto my--already frosted--cake.
I used a meringue frosting for this cake again.
I used cocoa powder for the brown.
For the "black" hat band I used a special dark cocoa powder. 
For the yellow... I used turmeric powder. Some in my family said they tasted it. It is up to you whether-or-not you want to give it a try. :)
It turned out pretty great though. :)
---
Decorating Idea #7
The banjo cake! This was another fun one! One of my brothers was getting a banjo for his birthday... So I went all out! 
It is frosted with butter cream again. Different amounts of cocoa powder for the shades of brown. 
I stuck candles up where the tuning pegs are. Then I ran a clear plastic thread--which you can't see in the picture--as the strings.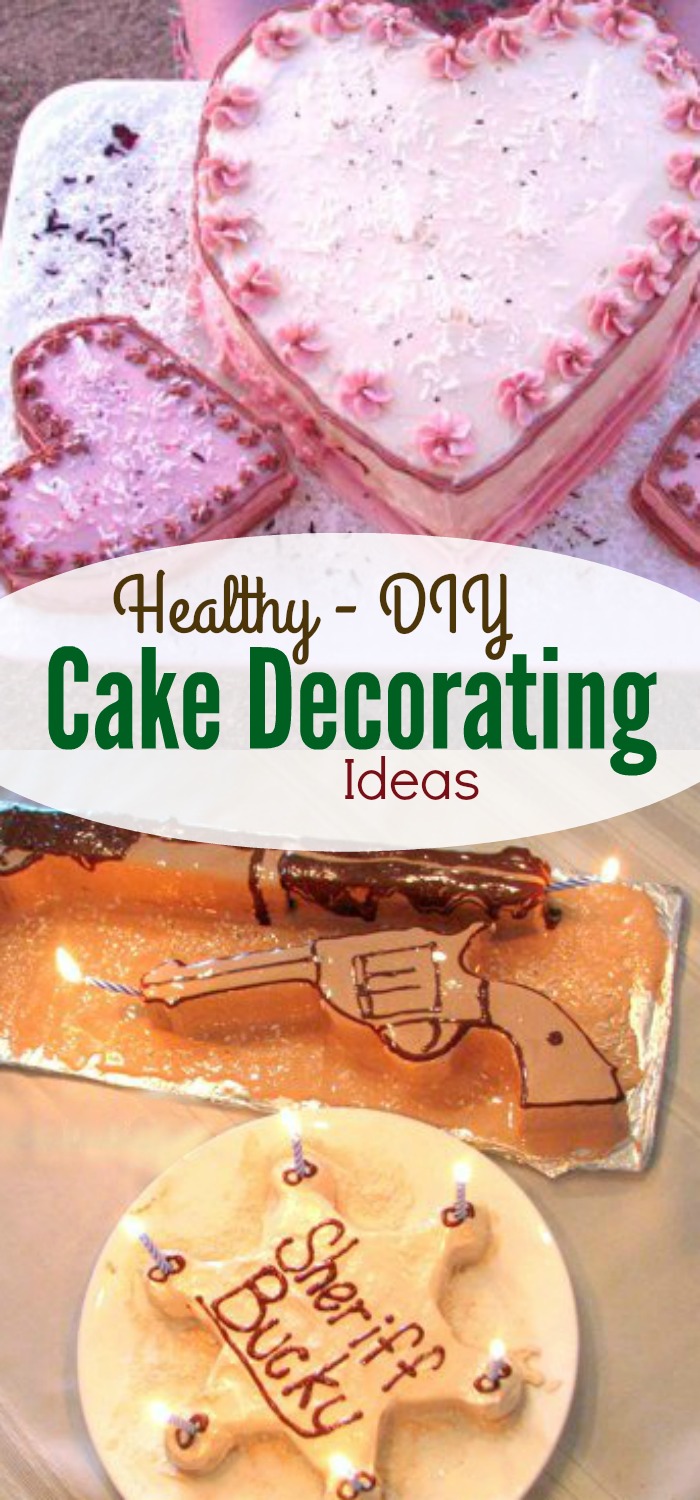 I hope you enjoyed my cake decorating ideas! There are so many ways to have fun with it. Just use your imagination. :)
Have fun decorating!