There are a lot of different garden watering systems out there that you can use for your garden. Deciding which one is the right one for you is important. It will help you on your way to that gorgeous vegetable garden! :)
Garden Watering Systems:
---
Disclosure: Some of the links on this page may be affiliate links, meaning I may get a small commission if you make a purchase. Read the full disclosure here.
Standard Garden Hose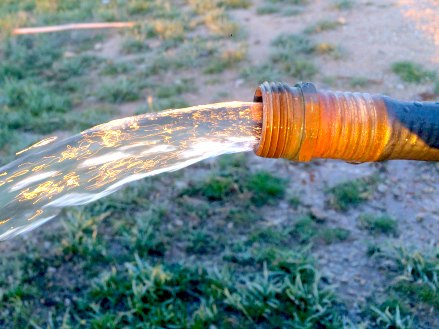 This is a great option for those of you in other parts of the country where you really don't have much watering to do. 
But if you are planning on watering much (especially in Arizona), I would move on to another method that requires less every day work from you. ;)
---
Soaker Hose
I used this for my first gardening year. It worked really well that first year... But then it started falling apart.
It is so fragile! If you are planning on using it keep that in mind. It lasted me one season. It might have lasted a little longer, but then I needed to patch holes that it kept making.
That being said, it was great while it lasted.
If you are willing to replace it ever so often, it really does a great watering job. For all of the vegetable/herb garden plants.
I had a great year using soaker hoses in my garden! 
---
Drip Line
This is a great way to go! But probably too much work for the vegetable garden. :)
You can make this very customized to your specific needs. It would do better in an herb garden, or for watering perennials.
I use it in my herb garden and it works great! I can make it specific to each plants needs and they love it. (Just make sure to keep the dogs out of it! I learned this one the hard way. :p )
I am trying the drip line in my orchard too. So far so good with that.
---
Drip Tape
I am just trying this in the vegetable garden for the first time!
After realizing we needed something other than the soaker hose, this is what we are trying now. So far I have just finished setting (most) of it up. Now I am planting and we'll see how the plants do. :)
---
Which One Is Right For Your Garden?
There is no right or wrong way. Which will work best for your garden watering system depends on you.
Do you want to drag a hose around and keep it simple? 
Or maybe you want something a step up. It all depends on you. And the situation you are in.
The above information is to help you in your decision process... To let you know some of the different pros and cons to the methods out there, as you plan your garden watering system!
Happy watering! :)