Frugal Homesteading Series #1: Five Gallon Buckets for Free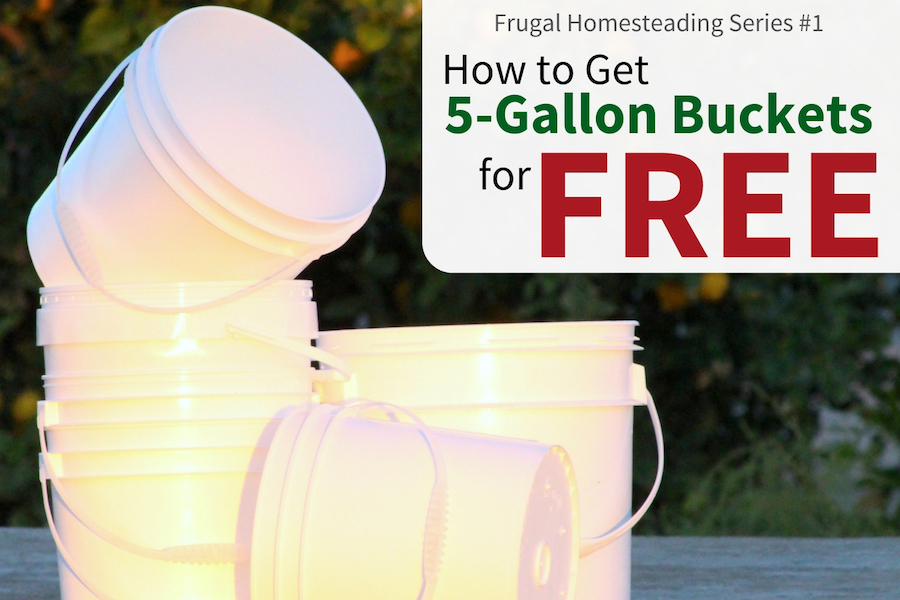 Five gallon buckets add up fast when you consider how many a homestead needs. However, you can stop spending money on them. They are actually very easy to find for free! We're going to go over a few of your options in just a second. 
Five gallon buckets are must-haves on any homestead. You can use them for storage containers, chicken feed fermenting buckets, a collection bucket for weeds (on their way to your goats), to carry tools around the yard, storing for animal feeds, hauling water or feed, collecting eggs, kitchen compost scraps, and more--buckets have way more uses than can be named here! :-)
It pretty much goes without saying--five gallon buckets have countless uses on the homestead.
Disclosure: Some of the links on this page may be affiliate links, meaning I may get a small commission if you make a purchase. Read the full disclosure here.
Finding Five Gallon Buckets for Free!
Many people can find their buckets from bakeries, deli's or restaurants. Often they were used to hold things like cake batter, icing, pickles, etc. 
Note: the buckets you get can be pretty messy. Icing, I've learned is a bit of a mess to clean out, as is cake batter--but they're free and worth it in my opinion. 
Stores That
Might

Give You Five Gallon buckets for Free
Safeway bakery 
This is where I like to get mine. Just walk up to the friendly bakers and ask them for any buckets they were planning to toss. Get there before they throw them out, or call ahead and ask them to save some for you. I've found they are happy to give them to me.
You can ask them if they'll wash the buckets for you and see what they say. If they will, it's a lot easier than taking them home and scraping and washing out all the icing or cake batter that was in them.

Other options I've found online include the following (most of these are the bakery department, unless otherwise noted):
Dunkin Donuts
Sam's Club

Wendy's

Chick-Fil-A

Kroger

Stores Not Known to Hand Out Five Gallon Buckets 
Some stores have a reputation for not handing out five gallon buckets. Here are a few stores that you may only want to try if no one else will give you their buckets.
Walmart (some have and some haven't been able to get them from Walmart)
McDonalds

SubWay

Cosco

Golden Corral

Cleaning Them
Honestly, these buckets are in for some dirty and rugged times ahead on our homestead. So I don't over worry about them being spotless. Here's the best way I've found to clean them.
If it's butter cream frosting, let it air out and harden on. After it's hard, it's still soft-is and easy to scrap off. Then use hot water and dish soap.
Some of the glaze icings are best to let soak a few minutes in very hot water. Then continue to wash with hot water and soap.
Everything else can just be washed with hot water and soap. If you don't like the smell try scrubbing it out with baking soda, or vinegar.
However on the homestead, it probably doesn't matter much that your weed bucket smells like butter cream frosting. ;-) 
Soli Deo Gloria!  (Glory Be to God Alone!)

~ Julia

| | |
| --- | --- |
| | Hi! I'm Julia. I live in Arizona on 2.5 acres, with HOT summers, lots of cacti and amazing sunsets! A sinner saved by grace first and foremost, I'm also a homeschool graduate living with my family at home and serving the King, Jesus Christ, above all. Read more --> |
---
-
-
Join Homesteader's Elite! 

A growing library of over 14 free printables and cheat-sheets for the homesteader. . . & it's always growing! 

Just check it out by dropping your email below & I'll send your a special link and password.
---