Trying to find a healthy tomato soup recipe? This is a winner with my family! Made with lots of healthy fresh ingredients. A delicious treat around here!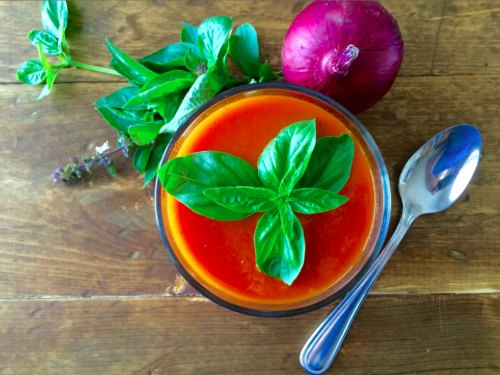 We all love this when I add some pre-cooked sausages. Something about the sausages with the tomatoes just tastes great. :)
I have made this ahead of time... Then dumped it into a crock pot with some sausages. And let it cook overnight.
In the morning it is tasty and read to eat as a nice warm breakfast!

---
Tomato Soup Recipe
Ingredients:
1 large onion, chopped 
13 cloves of garlic, pealed and diced 
1 teaspoon pepper 
3-4 fresh basil sprigs 
8 1/2 lb. fresh tomatoes, quartered 
1 tablespoon salt 
8 cups broth 
2  7 oz. jars of tomato paste--optional
Sauté the onion in a large stock pot. When it is caramelized and golden move on. 
Add in the garlic, pepper, and basil, and mix together.
Sauté on medium for 5 minutes. 

Dump in the tomatoes and salt, turn the stove to high, and mix it all together. Let it cook like such for 5 minutes. 

Pour in the eight cups of broth and bring the pot to a simmer. Simmer for about and hour. 


After your soup has been simmering for a while, take a hand blender and blend all the chunks until smooth. Add in the tomato paste, and salt it to taste. 

I hope your family will enjoy this tomato soup recipe as much as we do!
We especially love it with some pre-cooked sausage in it! =)
Tasty!