This amazing healthy marshmallow recipe is made with honey, vanilla, and gelatin that is really good for you!
Marshmallows are one of those fun treats that you never thought you would have again after going off junk food. When I was first told about a healthy marshmallow recipe, I was told that I had to make it. :)
It took awhile before I finally did make it, but I am so glad I did. They are so much fun to make!
This is WAY better than the junk that you can get at the store. They are also really easy to make!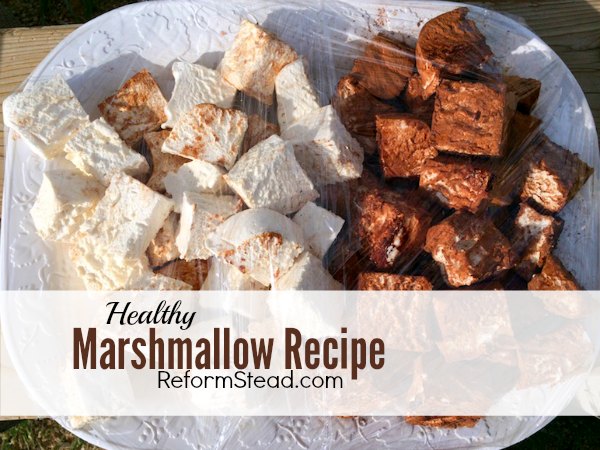 Healthy Homemade Marshmallow Recipe
---
Ingredients:
3 Tablespoons grass fed gelatin 
1 cups water 
1 cup raw honey 
1 Tablespoon homemade vanilla extract 
1/2 teaspoon salt optional cocoa powder, cinnamon, or shredded coconut
---
Line a 9x9" glass baking pan with un-bleached parchment paper. Grease it with coconut oil, to help them not stick. They will also come out really easy with the parchment paper.

---
In a mixing bowl, put in the gelatin and 1/2 cup of the water. (Don't mix just let it sit.)

While you let the gelatin and water sit...
---
Mix the other 1/2 cup of water, honey, vanilla extract, and salt, in a medium size pot.

Place the pot on the stove, and turn on high. 
Bring it to a boil. Once it starts boiling, boil for about 8 minutes, stirring often. 
---
Turn the mixer (with the gelatin and water) on low, and start pouring in the honey-water mixture, slowly. 

Turn the mixer on high and beat for about 9-10 minutes until it is very thick and marshmallow-like. It will be like a marshmallow cream. (It is fun to see it form up!)
---
Pour the marshmallow cream into the pan you prepared. 

Let sit for a while. You want it to firm up more. 
---
Now you can cut it into squares!

Before you cut them, try putting some coconut oil in a mug. Put your knife in the oil just enough to give it a thin coat. Then use it like that. It helps to keep the knife cut clean so that it does not stick and make a gooey mess! :)
---
You can eat them like that if you want....or you can coat them in something fun!
I like them best dusted in cocoa powder or shredded coconut. You can also try a little cinnamon.
You can also try cutting them into cute shapes! Try using different cookie cutters. When you use the cookie cutters, make sure to dip them in coconut oil first.
Enjoy your healthy marshmallow recipe!