How Do You Keep Chickens Cool in the Summer?
A few weeks ago I received an email from a gal who lives in my home state, Arizona, and she asked me a question I think you might be interested in learning more about. Here's her question: 
"I love your site. We also live 45 minutes from the nearest Costco in AZ. We are new to this and we bought our first chicks 5 months ago. Still waiting for the first eggs. My question is, how do you keep them cool in the summer?"
How Do You Keep Chickens Cool in Summer?
Disclosure: Some of the links on this page may be affiliate links, meaning I may get a small commission if you make a purchase. Read the full disclosure here.
This is a very important question. Especially for people who live in southern Arizona. Temperatures at our house can regularly rise to over 120 degrees in our hottest summer months. 
That's hot!
However, it's not impossible to raise chickens in this weather. There are a few precautionary measures that should be taken, but it is doable. 
How Hot, How Fast?
One of the most important factors is the fluctuation of the temperature. Chickens can struggle in hot weather, but that's not the worst. 
The hardest time for chickens (also its when we've lost the most) is when the temperatures take a steep rise in temperatures, all of the sudden. 
When in one week our temperature goes from 80 degrees to over 100, that's what I'm talking about. This is a hard and drastic change for them. We've lost a number of chickens when has happened in the past. 
Every year is different here, so some years the change from cool to hot is very gradual and the chickens are perfectly fine. Other years, a sharp rise in so short a time is hard. 
How to Help Your Chickens Through It
The best thing you can do is to keep an eye on the forecast. If/when you see a sudden rise in the temperature, go the extra mile to ensure your flock is going to make it. Below are some specific things you can do to help your chickens.

3 Ways to Keep Chickens Cool
I'm going to divide the variety of things you can do to keep your chickens cool this summer into three basic sections:
Breed choice
Long term solutions
Short term solutions
Within each of these sections there are lots of options. After reading through them all you can see which are best for your current situation and choose which you are going to implement. 
1. Breed Choice
I think the best thing you can do is make sure you get the right breeds. Astralopes, Rhode Island Reds, and Plymouth Rocks have done well for us (however their are other breeds that do well in the heat too). 
2. Long Term Solutions
Shade is important, and also clean water. It's also best if you put the water in the shade. I know it's not always possible right away, but trees and small shrubs give better and cooler shade than most structures. Rosemary grows well here and my chickens love to hangout under our mature shrubs (it's also good for their health). Moringa is another favorite I like to grow for them. Are you in the Phoenix Valley area? If so this tropical tree grows VERY FAST!! You can plant it from seed right now and it will grow fairly large in just one year. If you get them to overwinter, ours have gotten quite large and shade the coop and the chickens love to be back there when it's hot. (Also, chickens can eat moringa giving them a healthy green food source.)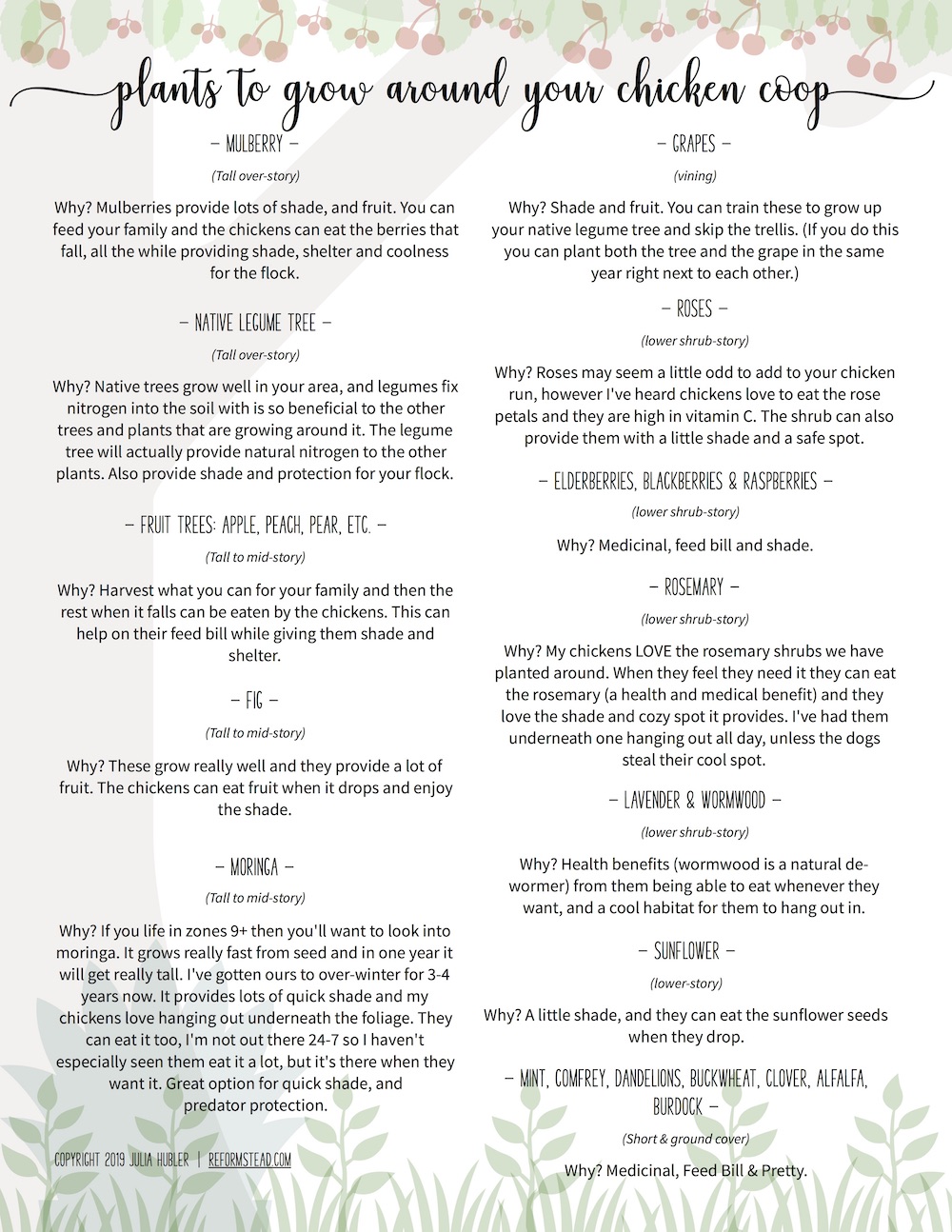 What is best to plant in your chicken's run?
Here is the "20 best plants to grow in your chicken run" chart to help you compare and pick the best for you! Completely free. Download Your Own Copy Now!
Psst! Just so you know you are also signing up for my email list. But you can unsubscribe at any time.
3. Short Term Solutions
Most of those are more long term solutions. However another thing you can do is get a mister with a fan. Some friends of ours have done this and like it. They say it also helps them to lay more eggs during the hottest months (when they sometimes will stop because of the stress the heat is creating in their bodies). For this reason we will probably get one sometime soon and set it up in addition to our trees, etc. 
I've also heard of ice cubes in their water and frozen fruit. I've personally never tried them, but it seems like a lot of people online really like these methods.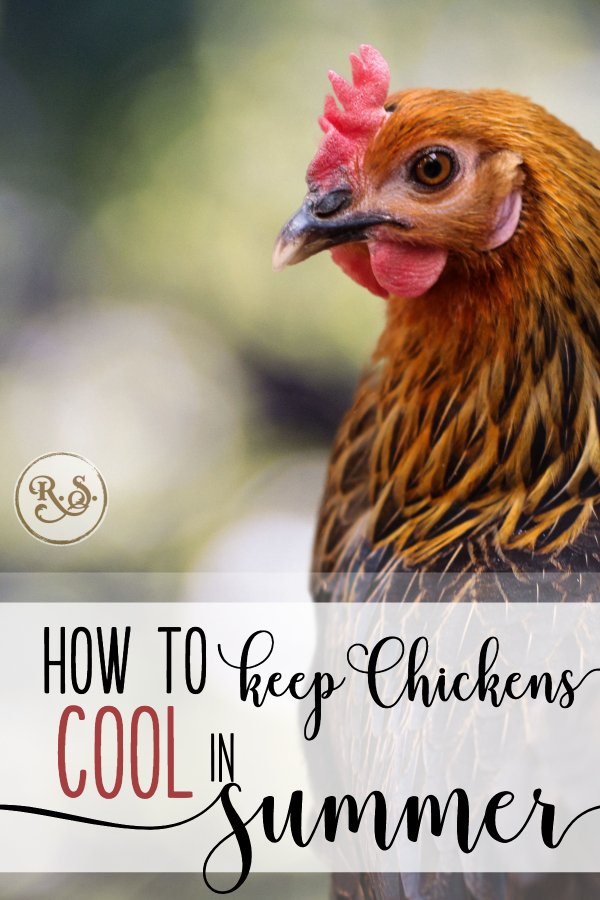 Stay cool and keep your chickens cool as well this summer! : )
Soli Deo Gloria!  (Glory Be to God Alone!)

~ Julia

| | |
| --- | --- |
| | Hi! I'm Julia. I live in Arizona on 2.5 acres, with HOT summers, lots of cacti and amazing sunsets! A sinner saved by grace first and foremost, I'm also a homeschool graduate living with my family at home and serving the King, Jesus Christ, above all. Read more --> |
---
-
-
Join Homesteader's Elite! 

A growing library of over 14 free printables and cheat-sheets for the homesteader. . . & it's always growing! 

Just check it out by dropping your email below & I'll send your a special link and password.
---