Garden Seeds and Plants: The 7 Best Companies to Buy Yours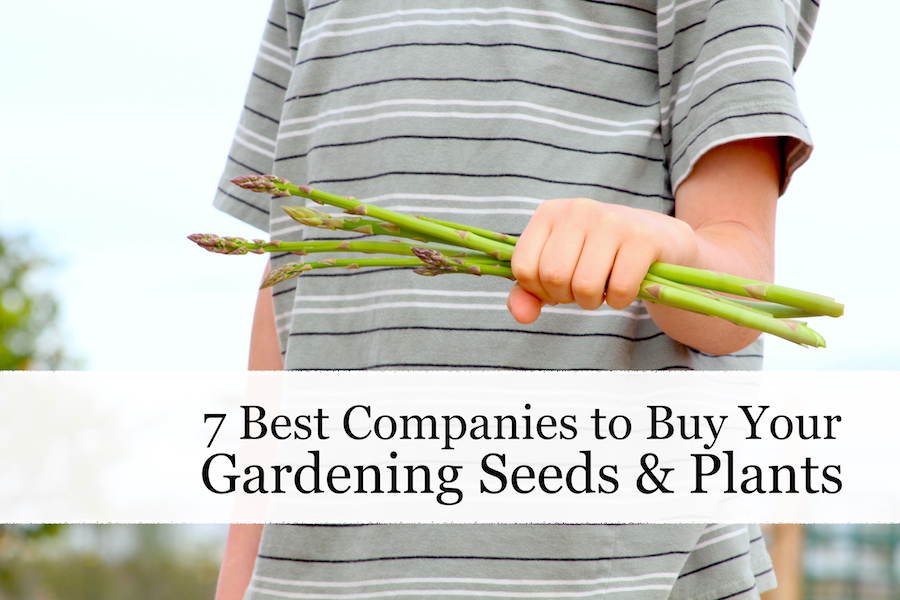 Garden seeds and plants are the most basic and important part of backyard gardening. There are so many things a gardener can invest in, but finding quality seeds is essential. 
Here I'll share with you my seven favorite places to look for seeds, asparagus starts, pasture seed and more. This will help you narrow down your options and choose the best seeds for your homestead garden.
But first, lets look at a few terms. These are important to understand as you shop for your garden seeds and plants.
Disclosure: Some of the links on this page may be affiliate links, meaning I may get a small commission if you make a purchase. Read the full disclosure here.
Hybrid -- These seeds have been cross pollinated to produce a new type of fruit. This is a 100% natural practice and can be used to create vegetable with better characteristics (better yield, shape, flavor, etc.) and there is nothing wrong with them. The only downside is that you'll have to buy new seeds every year. The seeds you harvest from hybrids will not produce a fruit/vegetable like the plant you harvested them from.
Open Pollinated -- Seeds that you can harvest seeds from and when you plant the new seeds they'll grow into a plant/fruit like it's parent plant. 

Heirloom -- These seeds are always open pollinated and you can always save seeds from these. These seeds generally have to be passed down for a certain number of years before being a technical "heirloom" (some say no less than 50 years). However, many use the term loosely and consider all open pollinated seeds heirloom.  
Non-GMO -- Seeds which have genetics that have not been tampered with in a laboratory. GMO stands for Genetically Modified Organism. Hybrids, Open Pollinated, and Heirloom seeds--all of them can be non-GMO.

The Best Garden Seeds and Plants
1. Baker Creek Seeds (Missouri) 
My top favorite one-stop shop for buying heirloom, non-GMO seeds. I love all the seeds I've gotten from them. They have a great variety and their shipping is now free! rareseeds.com is a great place to start when it comes to seeds, and their free catalog is amazing! 
2. Seed Savers Exchange (Iowa)
This would have to be my second most-trusted quality seed company. They also have a wide range of seeds to choose from. They are non-GMO, and all the rest. Check them out at: seedsavers.org
3. Native Seeds SEARCH (Arizona)
Arizonians and other desert dwellers need to check this place out. Their seeds thrive in our hot, dry, and harsh desert conditions. They are a non profit as well. Check them out here: www.nativeseeds.org
4. Grow Organic (California)
I love to shop here for my gardening odds and ends. GrowOrganic.com sells fruit trees, shrubs and vines, asparagus (I just bought some purple asparagus this year! :D ), nut trees, pasture seeds and more that most smaller seed companies don't offer. Check them out here: www.groworganic.com
5. Renee's Garden (California)
A small seed company these seeds are all heirloom and open pollinated, non-GMO seeds. Renee is a gardener who sells the seeds and varieties she loves best. reneesgarden.com

6. Clear Creek Seeds (Oklahoma)
Another small seed company with non-GMO, heirloom seeds. Beautiful website and seed packaging! clearcreekseeds.com
7. Southern Exposure Seed Exchange (Virginia)
Another great company to check out! They offer non-GMO, heirloom seeds from Virginia near Jefferson's Monticello. Plus they have a free catalog you can order. =) southernexposure.com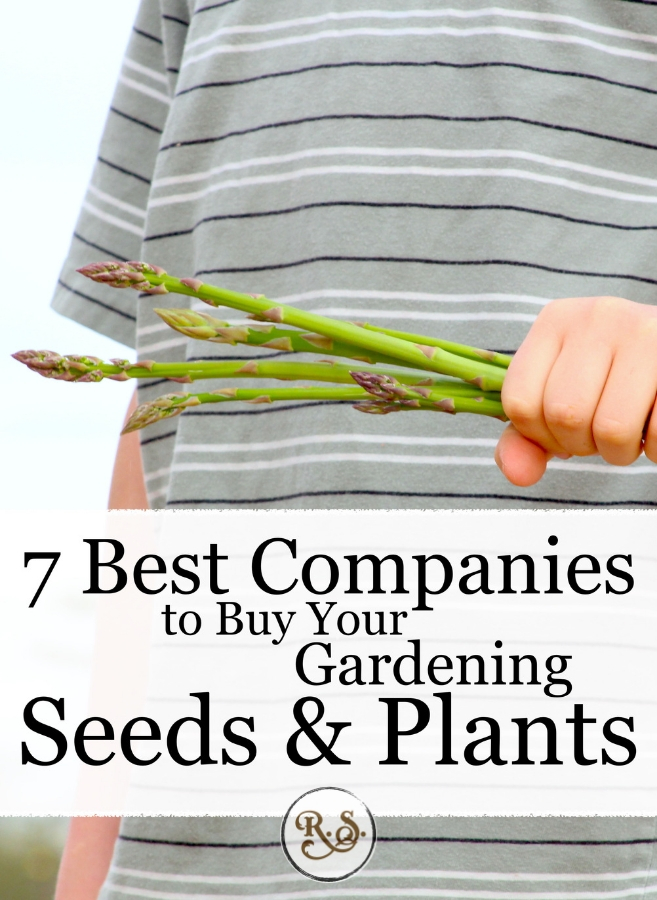 Have fun shopping for your garden seeds and plants! =)
Soli Deo Gloria!  (Glory Be to God Alone!)

~ Julia

| | |
| --- | --- |
| | Hi! I'm Julia. I live in Arizona on 2.5 acres, with HOT summers, lots of cacti and amazing sunsets! A sinner saved by grace first and foremost, I'm also a homeschool graduate living with my family at home and serving the King, Jesus Christ, above all. Read more --> |
---
-
-
Join Homesteader's Elite! 

A growing library of over 14 free printables and cheat-sheets for the homesteader. . . & it's always growing! 

Just check it out by dropping your email below & I'll send your a special link and password.
---