Here is a spin on traditional mashed potatoes! Great for one who is trying to use extra garden produce. With a few secret ingredients.
They taste amazing!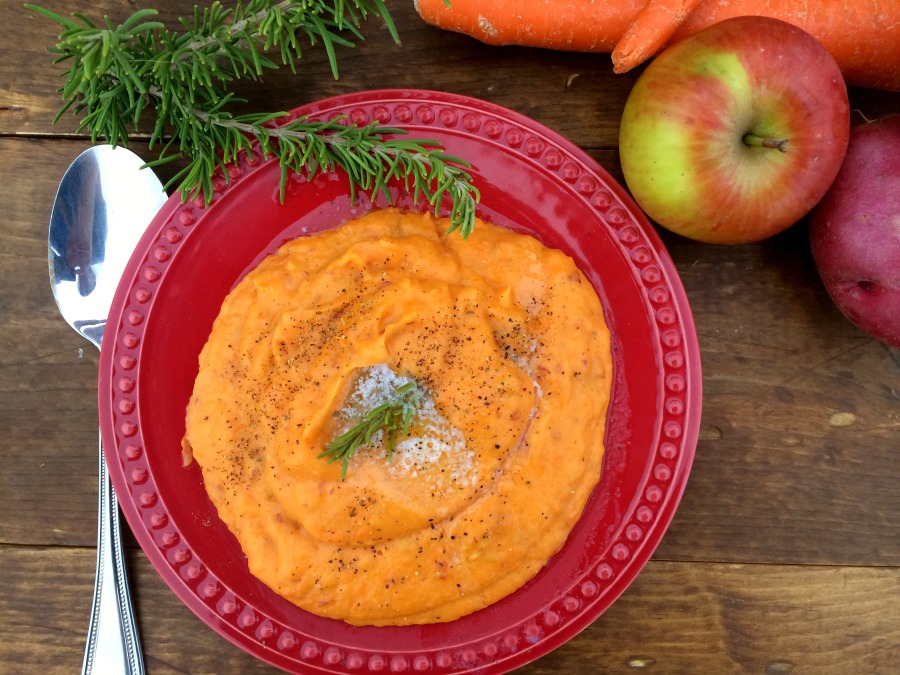 Ingredient List:
19 Red Potatoes, chopped 
10 Carrots, chopped 
1 Onion, chopped 
3 Apples, cored and chopped 
*** A few more ingredients are below
Make It!
When boiling water for mashed potatoes or any other vegetable...Instead of tossing the water, use it to make a pot of soup. Or at least let it cool and feed it to your chickens.

Bring to a boil all the above ingredients in a large stock pot. 
When they are tender, drain off the water. 
Mash them as you would regular mashed potatoes. Here's what I recommend adding to them...
Second Ingredients List:
Salt & Pepper, to taste
1.5 cups butter 
1-4 cloves Fresh minced garlic 
Optional: A little milk to make them a little more moist 
Optional: Any herbs or spices you feel like adding!
Notes:
Kitchen Tidbit #2. When it comes to peeling vegetables think twice. If you don't need to peel it don't! There is nothing wrong with skins on potatoes, carrots, & broccoli, etc. I only peel if the skins are bad. The nutrients in the skins don't need to be wasted. And mashed potatoes are great with the skins on! :-)

Kitchen Tidbit #3. Use the hand blender to blend up your mashed potatoes! Make sure there is enough moisture in the potatoes so they blend nicely. (AKA butter, milk, and/or broth, etc.)

So simple and yet so delicious! They are a great way to enjoy mashed potatoes with a little variety. :-)