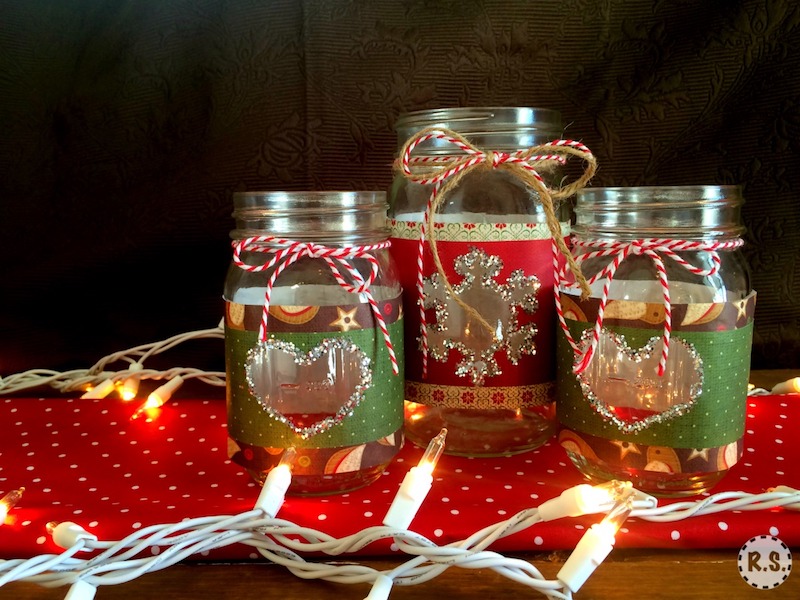 These DIY mason jar centerpieces are perfect as homestead decorations! These ones help bring on the Christmas feel--cold winds, snow, hot chocolate, and cozy fireplaces...well, maybe not as much if you live in Arizona. :-)
It's still chilly for us here in the winters though. After all, if way over 100 degrees is common in the summer, than even 50 feels quite cold. 
These mason jar centerpieces are a great winter craft, or project you can do when it's to cold to go outside. Pull out some glue, your favorite crafting papers and settle on in for a project. 
Disclosure: Some of the links on this page may be affiliate links, meaning I may get a small commission if you make a purchase. Read the full disclosure here.
How to Make DIY Mason Jar Centerpieces
Supplies:
Fun crafting paper
Ribbon, baker's twine, or raffia
Anything else you think would be cute on your jars! Buttons might be fun. :-)
Step #1. Get a template
Go online and google the shape or template for the cutout you want. Snowflakes, hearts, and stars are great places to start. You can also make these for summer (sun, trees, etc.), fall (leaves, pumpkins, etc.) or spring (flowers, tulips, etc.) as well. Be sure to grab the appropriate seasonal crafting papers!
Step #2. Cut your paper
Cut your crafting paper out to the right size so they fit around the outside of your jars nicely. Layer two kinds of paper if you'd like (I did green on birds for the two small jars and red on floral for the larger one).
Step #3. Cut out the shape
Find the middle of the strip of paper and fold or lightly mark it. Then trace the shape or design you wish to cut out onto the back side of the paper right in the middle.
Using scissors, carefully cut out your design. 
Step #4. Glue the paper to your jar
Now place the paper on the jar how you want it. See how it's going to line up and keep in mind any markings that might be on the jars and get in the way. 
Glue the paper in place and use a little bit of tape to secure while it dries (if you need it). 
Step #5. Glitter! 
Take your bottle of glue and carefully outline the edge of your cutout/design. Dump on some glitter and let it dry. 
You can also make it even easier and just use a tube of glitter glue.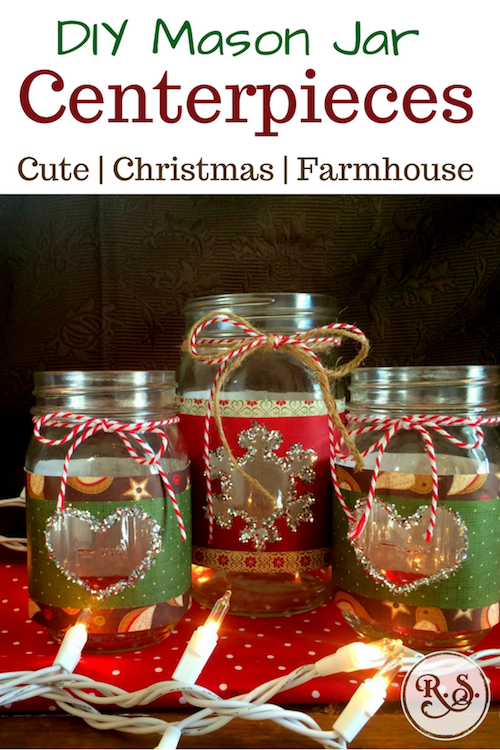 Step #6. Finishing touches 
After everything has dried, tie some baker's twine and raffia at the top. Or if it suits your style better, ribbon or embroidery floss would be lovely too!