The Best Bee Themed Baby Shower Cake - Gluten Free & Natural Colors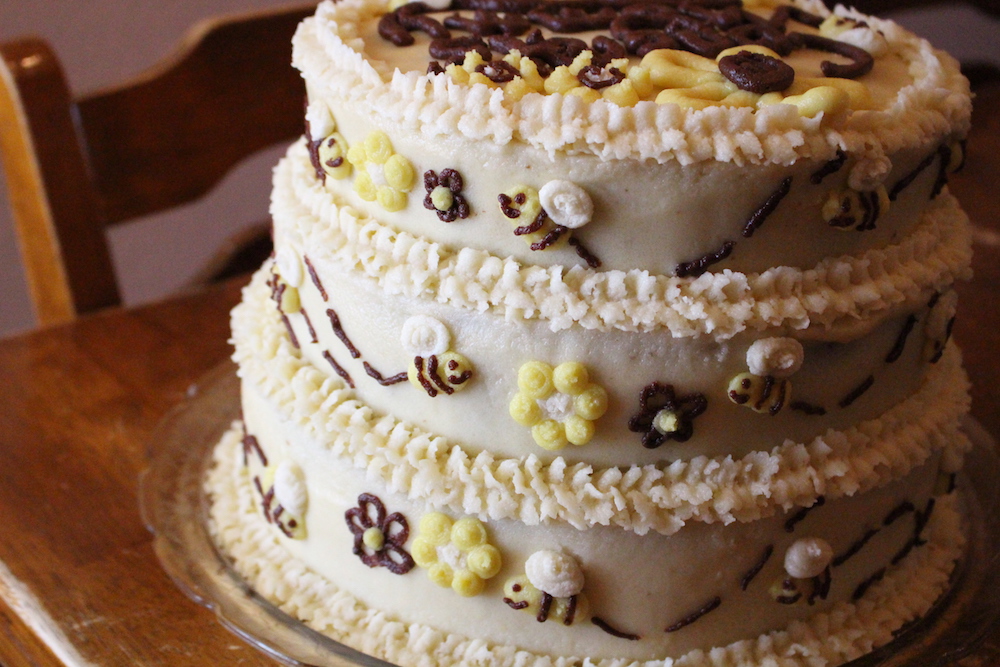 This bee themed baby shower cake was a lot of fun to make last week. I'd like to share the recipes I used and show you some pictures so you can make your own bee themed cake someday (or just so I can find the recipes again if I want them. ; )
Disclosure: Some of the links on this page may be affiliate links, meaning I may get a small commission if you make a purchase. Read the full disclosure here.
Bee Baby Shower Cake Recipes : )
For this recipe I used a gluten free cake recipe, a frosting recipe, and made a yellow food coloring recipe. Those recipes are linked to below. 
The Best Gluten Free Cake Recipe
The cake was gluten free and very yummy. I did research and tried to find the best gluten free cake recipe, and I think I found it. It was really yummy. I had a lot of people tell me they don't like cake, but this was good.
I'll be making this cake recipe again for sure.

Get the gluten-free cake recipe
Frosting Recipe
This recipe was tasty, and I did change it a bit. I might try another recipe next time, but this did work pretty well.
Get the buttercream frosting recipe
Brown Food Coloring Recipe
Add cocoa powder to a small portion of the frosting until you achieve the dark brown.
NOTE: Because you will have to use so much cocoa powder, this part of the frosting will be really chocolatey and not sweet anymore. It's fine in tiny bits (as I used it) however, you wouldn't want the whole cake frosted in it. 
Yellow Food Coloring Recipe
NOTE: Making this food coloring will stain your blender, and basically everything it touches. You are forewarned. 
1 large golden beet
4 teaspoons ground turmeric
1/2 cup water
Simmer for about 30 minutes keeping an eye on it. Make sure the water doesn't boil off. Add more water if needed, but as little as possible.
Blend in the blender with as little but enough water so it will blend. 
Pour into a fine cloth (real cheese cloth) and let as much of the juice drain as possible. Squeeze out as much of the juice as you can.
Clean the pot, and put it back on the stove. Boil most of it away and then store in a little glass jar.
TIP: How to Get Pro-Smooth Frosting
Before you decorate the cake I made sure the frosting was ultra smooth and that added to the professional look of this cake. 
To do this, frost it as you normally would. Then grab a hair dryer and go over the whole cake again blowing the hot air on it while you smooth it with your icing spatula. It works really well.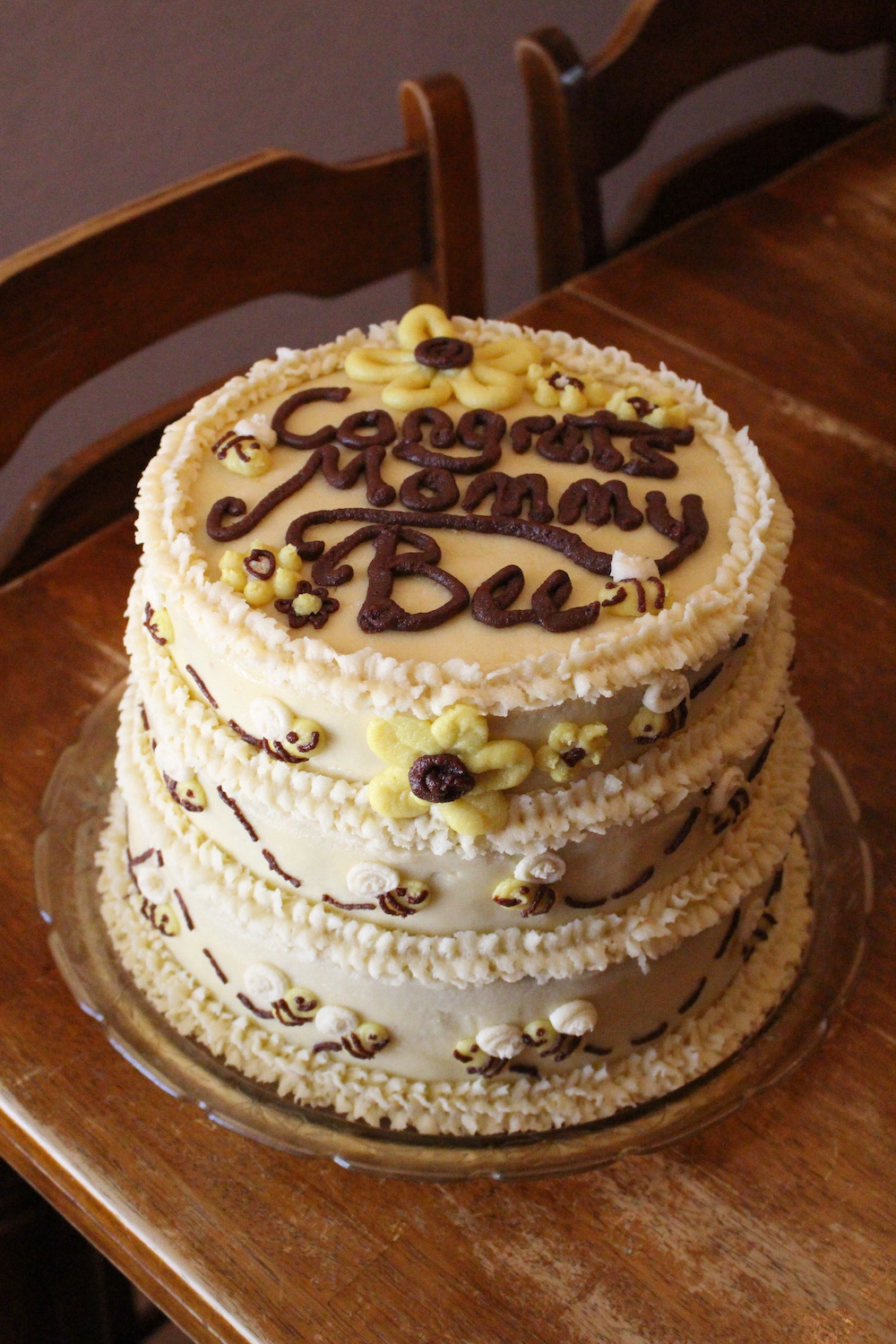 Have fun making and decorating your bee-themed baby shower cake! :) 
Soli Deo Gloria!  (Glory Be to God Alone!)

~ Julia

| | |
| --- | --- |
| | Hi! I'm Julia. I live in Arizona on 2.5 acres, with HOT summers, lots of cacti and amazing sunsets! A sinner saved by grace first and foremost, I'm also a homeschool graduate living with my family at home and serving the King, Jesus Christ, above all. Read more --> |
---
-
-
Join Homesteader's Elite! 

A growing library of over 14 free printables and cheat-sheets for the homesteader. . . & it's always growing! 

Just check it out by dropping your email below & I'll send your a special link and password.
---