Homesteading for beginners: How to Start Your Homestead In 5 Steps Today!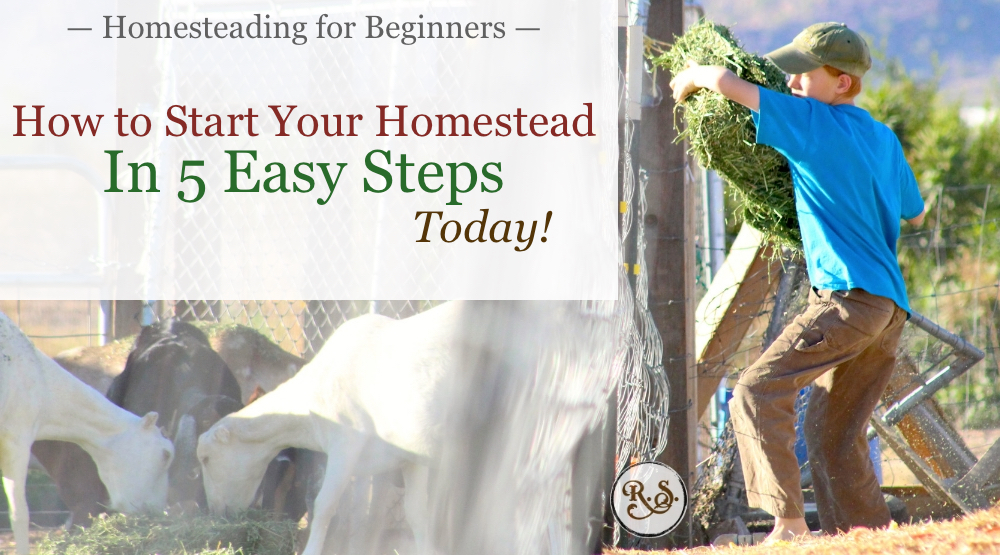 Backyard homesteading for beginners can sometimes be a bit challenging. Often the question raised is…
Where do I start? 
First off let me say, that's a good question. When you jump into homesteading there are literally a thousand or more things you can do all in that first moment. 

So how do you decide what to work on first? That's what this article is for.

Disclosure: Some of the links on this page may be affiliate links, meaning I may get a small commission if you make a purchase. Read the full disclosure here.
Sorting Out the Myriads of Options: Homesteading For Beginners
With all of the options you want to look for the things you can do now. Don't get wrapped up in all of the future projects and dreams and loose sight of the importance of the little things you can do today.
It is the baby steps you take today that will build your homestead. 
It's good to dream and keep the big picture of what you want your homestead to be in the future. That's critical to keeping your momentum up and remembering where you are headed when the going gets hard. 
However, while you are dreaming, work on a project. Dream of all the things you can do in the future, while you master the art of bread-making, or windowsill herb gardening. Or while helping a friend clean out their chicken coop and or do fence repairs on their homestead. Offer to help were you can and learn to see and find the jobs (aka skills) you can learn now. 
(I promise, there's a lot more than you think there are!) 
While keeping all that in focus, here are 5 steps you'll need to start your homestead. 
5 Steps to Start Your Backyard Homestead
1. Study, Study, Study, Repeat. 
Read books, homesteading blogs, and magazines. Watch youtube videos, DVD's, etc. and then do it all over again.
Even once you start your homestead you'll need to keep studying. There is nothing the same as practical experience, but don't wait to get that. Learn from what others are doing and learn from their mistakes now so you don't have to repeat them. 
I have a list of homesteading resources here. You'll find my favorite homesteading blogs, books and more to help you start your research journey. 
P.S. Don't forget to enjoy the learning! :-)
2. Make a Plan
This could be as basic as listing out a few major goals you need to start a homestead, to a very detailed step-by-step plan...but plan out something. Plans help you see where you're headed and they let you know there's an end in sight. :-)
3. Start Now!
The greatest part is this: you don't have to wait to start the actual homesteading adventure! There are things you can do (in addition to the research) right now that will help you in the future.
There is no reason to wait until you have _________ (fill in the blank: land, money, animals, a large garden, etc.). You can always do something to get you ready. Make sure to include in your plan (above) some short-term goals in addition to the longer term goals--like mastering some of the skills in the next step.

4. Build Your Skills List
When you are picturing a homestead, I hope you are also imagining all of the projects, recipes, and more you'll be learning along the way. 
Think Do-It-Yourself to it's fullest. 
If you have no land and live in a tiny apartment, but want to homestead in the future, NOW is the time to start building your list of "Can-Dos". If you wait until you have land and are in the thick of starting a homestead, you'll get into trouble if you have to learn everything at the same time.

Here are my top suggestions. 
Grow something! Anything. A few potted herbs in the apartment windowsill or even container vegetables on the balcony. There's no reason not to learn something about gardening, cause no matter where you are, you can grow something.
Learn sewing, or down-to-earth wood working skills. There is no need for either of these to be fancy. Being able to sew even a little bit of a sloppy straight line may come in very handy some day. And woodworking skills will never go out of style (or need) on any homestead. 
Those are just three skills. Here is a list of 50+ homesteading for beginner skills you can learn to build up your homesteading skills list. 

5. Welcome Failure & Learn

Learn to welcome failure, and learn it quick. 

Why? 

Cause: Failure = Fast & Memorable Learning

:-)
The sooner you learn to accept that and like that the sooner you'll be off to a homestead that works and grows into the perfect homestead you have pictured in your mind.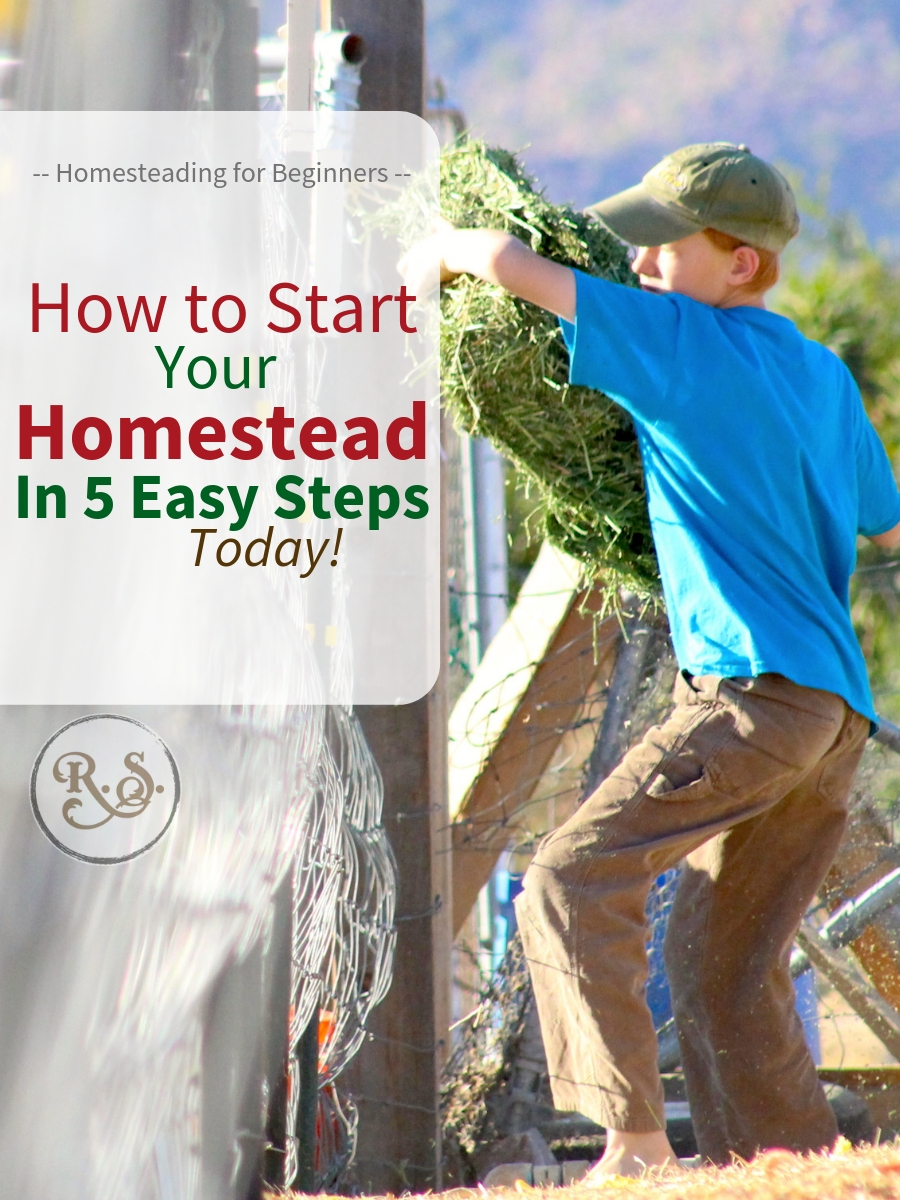 Have fun starting your backyard homestead! :-)
If you enjoyed this Homesteading for beginners post, you may also like: Homesteading For Beginners: 50 Skills You Can Learn Right Now
Soli Deo Gloria!  (Glory Be to God Alone!)

~ Julia

| | |
| --- | --- |
| | Hi! I'm Julia. I live in Arizona on 2.5 acres, with HOT summers, lots of cacti and amazing sunsets! A sinner saved by grace first and foremost, I'm also a homeschool graduate living with my family at home and serving the King, Jesus Christ, above all. Read more --> |
---
-
-
Join Homesteader's Elite! 

A growing library of now over 30 free printables and cheat-sheets for the homesteader. . . & it's always growing! 

Just check it out by dropping your email below & I'll send your a special link and password.
---