Hello ,
Here's a collection of practical information to help you in your homesteading this month. Gardening, chicken raising, healthy recipes and the like are below. Enjoy!
---
Homestead Highlight #1. 8 Secrets For Arizona Gardening
How do you garden in the scorching hot desert? What is the best way to water a desert garden? Arizona gardening may have its challenges... But if you can get them right you can have a really stunning garden! -->

8 Secrets For Sucessful Arizona Gardening


---
Homestead Highlight #2. Our First Kidding Season
Our first goat kidding season was full of new challenges. I did lots of reading up on taking care of baby goats...and the kidding process. I was ready! But something I wasn't expecting happened. -->

Lessons I Learned From Our First Kidding Season


---
Homestead Highlight #3. Why Start Growing Buckwheat?
There are so many amazing reasons to start growing buckwheat. Here are 9 reasons to start growing your own buckwheat today!

9 Reasons To Start Growing Buckwheat Today!


---
Homestead Highlight #4. The Easiest Sauerkraut Recipe
Do you love the taste of ferments? Never actually tried your hand at making it? Let me help you knead up a batch, with this easy to follow sauerkraut recipe. -->

Healthy Fermented Sauerkraut Recipe


---
Around Our Homestead...
Just finished planting a summer crop of corn, cowpeas, honeydew, and squash this morning. Looking forward to all the produce in a few months. :-)

And By The Way, it is HOT here in Arizona! I am looking forward to the cool months ahead...They will be here before you know it!


---


That's it. Don't forget to check over at the blog for new posts. Until next time!

Soli Deo Gloria,

Julia - Reform Stead
ReformStead.com





From My Etsy Shop -->
---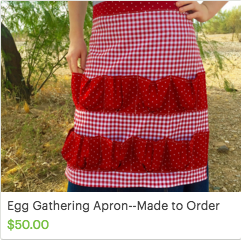 Egg Gathering Apron
Collect your eggs in style! With these cute, red-check, farm girl, country cotton calico, egg gathering aprons! Keep your eggs safe as they make their way into your house.

These egg gathering aprons are made to assist you in gathering in those eggs every night. -->

Egg Gathering Apron








---